Interviews
Amy Rutledge Talks Creating Truthful Character in Horror Tale Rent-A-Pal

Dating can be a horrifying experience, especially online. Of course, that all started way back in the '90s when hopeful romantics discovered one another using pre-taped interviews on VHS tapes. The retro video dating horror movie, RENT-A-PAL, stars actress Amy Rutledge in a seriously creepy VHS love-match.
Newly released from IFC Midnight, the film centers around David (Brian Landis Folkins), a lonely bachelor looking for love. When he turns to a video dating service, he discovers a strange VHS tape and a new friend in its charismatic host Andy (Wil Wheaton). But, when David meets a suitable match in the compassionate nurse Lisa (Rutledge), he also uncovers the frightening cost of Andy's friendship.
Amy has been grabbing tons of attention for her appearance in the Rent-A-Pal, but this isn't the first time she has emerged in a horrifying tale. Audiences will remember her from Neighbor, Eyes of the Dead, and The Death of April. And, when this New Jersey girl isn't terrifying fans, she is succeeding at festivals, winning two Best Actress awards for the short, Our Perfect World, and accolades for starring in the pilot Division Street. Amy has also proven a standout on stage, starring in the New York New Works Theater Festival first place winner, Sleeping With Earrings On.
Official Trailer for Rent-A-Pal directed by Jon Stevenson Stars Wil Wheaton, Brian Landis Folkins, Amy Rutledge, Kathleen Brady from IFC Midnight
---
Briefly explain your role in the new film "Rent-A-Pal."Amy Rutledge Amy Rutledge (AR): The film takes place in the 90s and I play Lisa, who is a kind and loving caretaker. She meets David through a VHS tape dating service and they hit it off right away. I like to think of her as a ray of sunshine in David's life.
What was your first impression of Lisa when you read the script?
Amy Rutledge (AR): I fell in love with her right away. I saw so much of myself in her. She's a caretaker and cares so deeply about other people and wanting to help. I had so much compassion for her because I instantly saw the beautiful qualities in her and her desire to love and be loved in return, which is such a basic human need that unites us all. I also love her because she is not a pushover and can stand her ground.
What helps you create a character?
AR: I write out their entire history and merge it with my own. For this character in particular I knew she had to wear a specific pair of these glasses that I had, which we ended up using in the film. I also knew she had to have a higher voice than my own since mine is so deep. I felt inspired to incorporate both of these things into her character.
With any character I play, I also need to make sure every line I say is truthful. If it's not, I seek out situations or experiences that will help me to make it true. For instance, Lisa is a volunteer at a senior living center. I knew right away I had to volunteer with seniors to make it real for myself. It was not only a joyful and humbling experience for my soul but it also gave me the truth and honesty I needed in saying certain lines.
---
Is there a specific moment when you know you're fully prepared?
AR: It's hard to explain in words but there's a certain click that happens for me. It's a feeling, intuition, or inner knowing. I feel 100% confident about what I've come to do and what I can bring to the table.
How do you keep your performance fresh during long hours on set?
AR: I meditate, eat very healthy, stretch, and listen to inspiring music. Meditation has been a lifesaver and a game-changer for me. It helps to keep me grounded, keeps my ego in check, gives me energy, and reminds me that everything and anything is possible. It gives you superpowers!
Considering you've been in several, are horror films your focus, or have they simply been what's come your way?
AR: They are just what has come my way. I'm very grateful for them. I have had the time of my life filming those films and have met lifelong friends as well! It's very ironic because I actually decided against doing them anymore since I was going through healing from PTSD and only wanted to work on lighter, happier material. But when I read the Rent-A-Pal script, I knew I couldn't pass it up. I do love a good, dark, creepy psychological thriller.
What's the best advice a director ever gave you?
AR: A few directors told me to never give up. That they believed in me and my talent and just to be patient. That it's only a matter of time. I've used that as a mantra and it has kept me going after all these years and has given me hope every day. I'd like to extend that out to everyone reading. If you continue to believe in yourself and know you are infinitely worthy and never give up it's only a matter of time before you reach your dreams.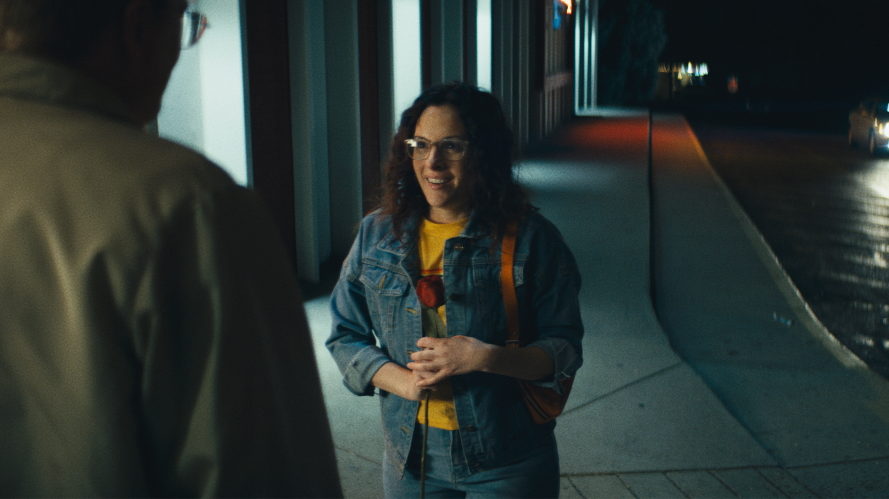 ---
Who is your creative idol and what do you love about their work?
AR: I absolutely love Tilda Swinton. She is a rock star and chameleon shapeshifter. There have been times where I've watched an entire film only to read in the credits that she was in it and it blew me away.
Anything else you'd like to share?
AR: In between projects it can be really easy to get depressed and be hard on yourself. It's really important to find other things that bring you joy, creativity, and peace when you are not on set. Maybe take up a new art form painting, drawing, dance. This is a lesson I've learned that has really changed my life for the better. You don't even necessarily have to be good at it.
Do things on a daily basis that make you happy so that you are not relying on the next job to give your life value or meaning. I've found that this constant flow of joy will attract more of what you love to do, including acting and filmmaking jobs!
---
Tell us what you think of the interview with Amy Rutledge What do you think of it? What ideas did you get? Do you have any suggestions? Or did it help you? Let's have your comments below and/or on Facebook or Instagram! Or join me on Twitter.
Follow Amy Rutledge on Social Media
Website
IMDb
Facebook
Twitter
Instagram