Interviews
Feeling Through by Doug Roland, an Ode to DeafBlind Community

A Case Study
Narrative | Dramatic Features
Film Name: Feeling Through
Genre: Drama
Date: March 2020
Director: Doug Roland
Producer: Doug Roland, Phil Newsom, Luis Augusto Figueroa
Writer: Doug Roland
Cinematographer: YuGin Koh
Editor: Name
Composer: Name
Production Company: Doug Roland Films
Budget: 3.2k
Financing: text
Shooting Format: 2k DCP or 1920×1080 .mov
Screening Format: a ratio
World Premiere: the film festival
Awards:
– Woods Hole Film Festival: Jury Award – Best Short Drama
– Ojai Film Festival: Jury Award – Best Narrative Short
– Bengaluru International Short Film Festival (oscar qualifying fest): 1st Runner up
– Port Townsend: Jury Award – Best Short Narrative
– Port Townsend: Audience Award – Best Short Narrative
– Port Townsend: Jury Award – Best Actor (Robert Tarango & Steven Prescod)
– San Diego International Film Festival: Audience Award – Best Short
– Portland Film Festival: Audience Award – Best Short
– deadCenter Film Festival: Audience Award – Best Short Film
– Naples International Film Festival – Audience Award – Best Short Film
– Indie Street Film Festival – Audience Award – Best Short Film
– Wisconsin Film Festival: Honorable Mention – Golden Badger
– International Portrait Film Festival: Jury Award – Film Dedication (reserved for best film of the fest)
---
The title Feeling Through has a double meaning. In a more literal sense, it's a reference to the Deaf Blind community which is at the heart of this film, because a lot of that community navigates the world through touch. The metaphorical meaning is a reference to our protagonist, Tereek's, personal journey of having to learn how to open his heart and "feel his way through" in order to grow in the way he needs to better his life.
indieactivity: What is your film about?
Doug Roland (DR): Feeling Through is about the unlikely connection between a teen-in-need and a DeafBlind man.
The film was inspired by a chance encounter with the first DeafBlind person I ever met late at night in New York City 9 years ago. He was holding a sign that read that he was deaf and blind and needing help crossing the street. I thought to myself that I had never met anyone who was DeafBlind before, let alone really thought about that community. I tapped him and he took out a notepad and wrote a bus stop that he needed. I took him there, and when we arrived I saw that a bus wasn't coming for over an hour. I wanted to let him know I'd sit and wait with him, but I didn't know how to communicate with him. Then, instinctively, I took his palm and started tracing one letter at a time on it, and he understood. We sat together and had a whole conversation that way, and I got to know this man, Artemio, as a funny, charismatic, warm-hearted guy with who I felt like I had made a connection. When his bus arrived, we gave each other a big hug goodbye.
Feeling Through (2019) written and directed by Doug Roland starring Robert Tarango and Steven Prescod
---
I realized in that one interaction I went from seeing Artemio as his disability to seeing him as a friend, and that inspired the story the eventually became Feeling Through. I partnered with Helen Keller National Center to make the film and cast a DeafBlind actor in a lead role, which was a first in film history.
Tell us about the festival run, marketing and sales?
Doug Roland (DR): We've been fortunate to have a busy festival run, winning 13 awards so far including a number of best short film awards (Ojai, Woods Hole, and Port Townsend) and audience awards (San Diego, Portland, deadCenter, and others) and over 25 selections a number of top festivals like HollyShort, Florida, Indy Shorts, and Tirana. Our festival run began in March just after the pandemic took hold, so our entire run has been virtual, which has been a unique experience.
In addition to our festival run, I worked with Helen Keller National Center to create a fully accessible screening event called The Feeling Through Experience which included Feeling Through alongside a supporting making-of documentary followed by a panel discussion and Q&A with the DeafBlind community. It's been an amazing way to create connections between the DeafBlind community and the general public through a shared experience.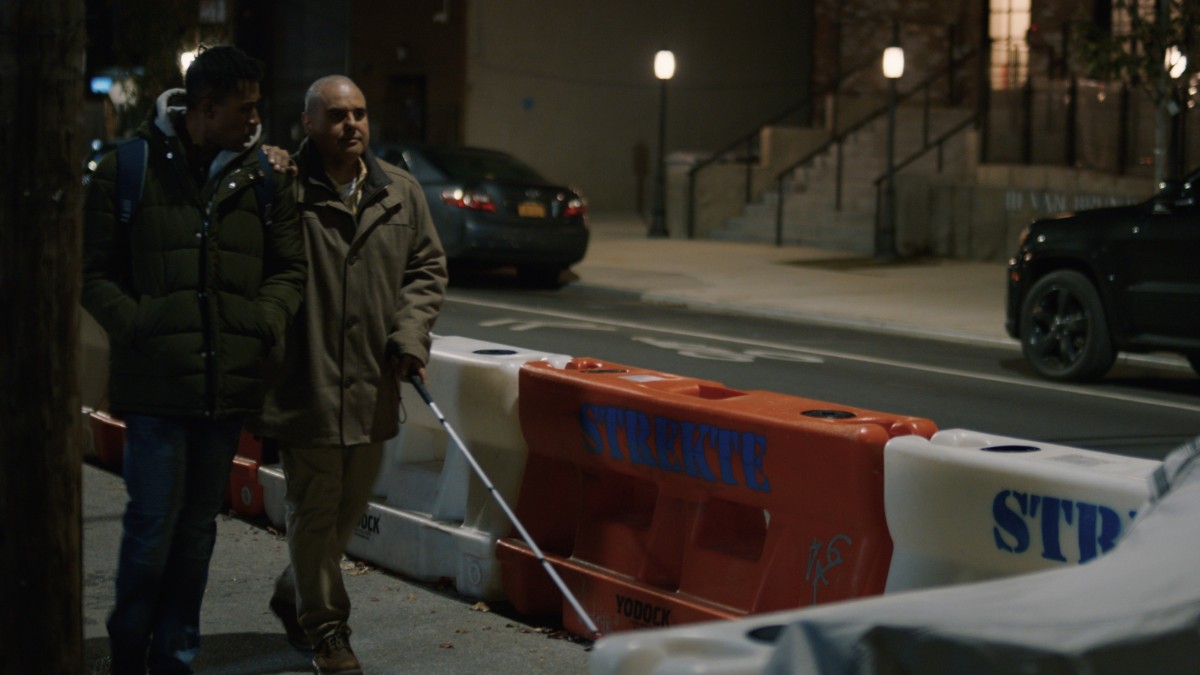 ---
Our history-making casting of the first DeafBlind actor alongside our groundbreaking, fully accessible screening events have led to a New York Times feature article, two different in-depth video features from Fox 5 News, and a video feature from Newsday.
Give the full Official Synopsis for your film?
DR: Feeling Through is the first film to feature a DeafBlind actor in a lead role. It's a coming of age story that follows Tereek, a teen wandering the streets of New York, desperate for a place to crash when he encounters Artie, a DeafBlind man in need of help getting home. What begins as an awkward meeting between strangers, quickly becomes an intimate bond between friends and a journey that forever changes Tereek.
Development & Financing?
DR: I wrote the film and it was inspired by the chance encounter with the first DeafBlind person I ever met described above. I turned to crowdfund for the financing (Seed&Spark), and Helen Keller National Center was a huge help in reaching out to their community to support the film.
Production?
DR: I spent most of the year leading up to shooting the film getting to know the DeafBlind community. I would frequently travel from LA to NYC to go to the Helen Keller National Center in Long Island and meet with DeafBlind employees and students. The film was also shot in NYC, so I'd use my trips back to meet with the potential crew and do location scouting (almost the entire film was shot outside at night in lower Manhattan and Brooklyn).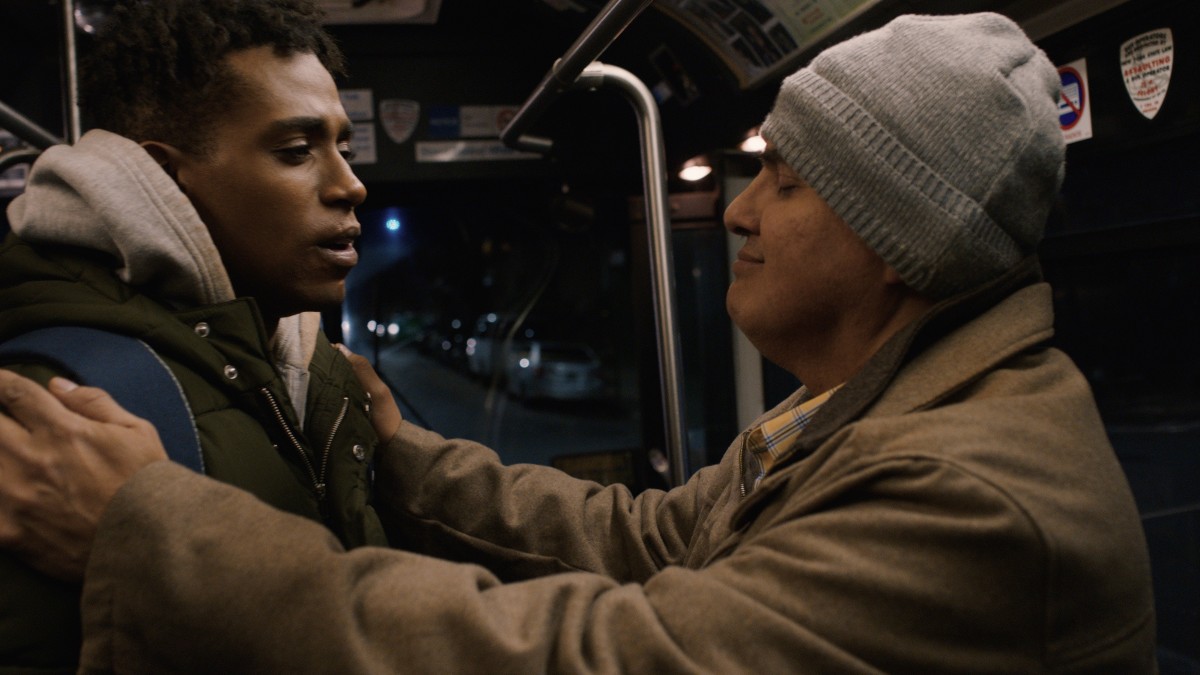 ---
We were chasing the calendar for production, trying to start shooting before winter hit too hard, and we only moderately successful at that, as the second half of our 4-day shoot was very cold. Shooting outside at night in NYC is always challenging, but we had a great cast and crew that came together to make it happen. I opted to edit the film myself, and we were ultimately incredibly pleased with the final result of all of our hard work.
Festival Preparation & Strategy?
DR: I primarily used my previous festival experience to navigate our festival run. I think winning our first jury award at Woods Hole helped create a great momentum for us, and from there we've gone on to win 12 more awards. Fortunately, festivals are now valuing inclusive and diverse storytelling, and I think that's helped us reach more people with Feeling Through.
The Release?
DR: So far we are only doing virtual film festivals and some private virtual events, but will pursue options for a wider release in the future.
Advice from the Filmmaker?
DR: The best advice I can give is to do your best to tell stories from your heart. There are so many other skills and techniques needed to eventually complete it and share it with the masses, but if the storytelling begins from an earnest place, you'll be putting your best foot forward.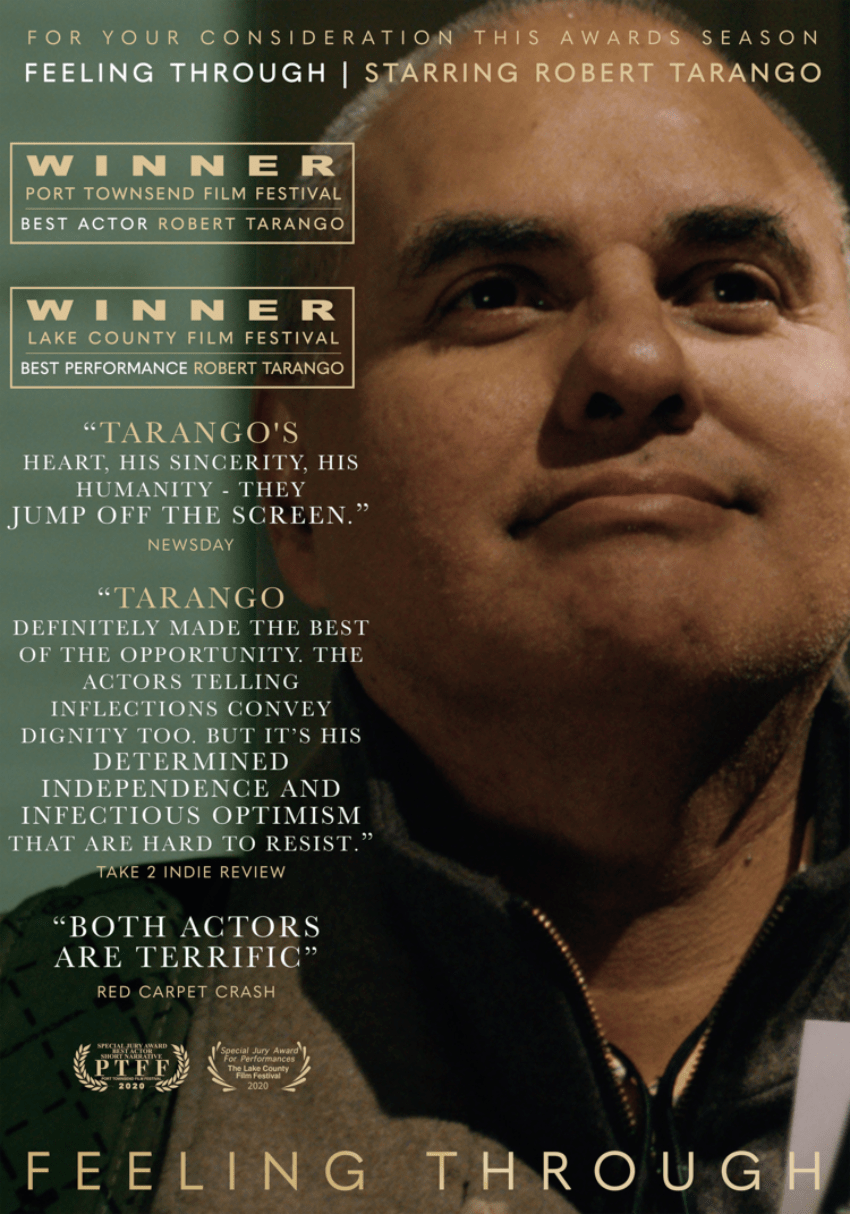 ---
Tell us what you think of the Case Study for Feeling Through What do you think of it? Genre? More genre? Let's have your comments below and/or on Facebook or Instagram! Or join me on Twitter.
Follow Doug Roland on Social Media
Website
IMDb
Facebook
Twitter
Instagram
YouTube