Interviews
Sarah Booth gives a soul-piercing performance as Beth in 'Last Call'

We talk with Sarah Booth about her work on LAST CALL. She details her work playing Beth, the night janitor, and her close collaboration with Daved Wilkins (Scott) and Director Michael Booth on the thrilling dramatic work, LAST CALL.
"My grandmother always had a video camera in her hand. She captured so many family moments. I was her first granddaughter so I was essentially the star of a lot of these VHS tapes. That probably sparked some kind of fascination with being on the screen. When I was young I was always performing (dance, equestrian, skating) but when I did my first play in high school and knew I could pursue it as a career, I was hooked." says Sarah.
indieactivity: What acting technique(s) do you use?
Sarah Booth (SB): I studied The Meisner Technique for a few years and that really made sense to me. I've explored quite a few techniques throughout my training and career. I like to keep it fun and fresh and never stop learning. Every time I dive into a different style I always take what works for me and leave the rest. I have what I call "my toolbox" and I use the tools I need for certain characters. Sometimes I play characters that are very easy for me to tap into and sometimes I need to try out a lot of different tools to understand who they are.
---
How did you get involved with LAST CALL/how were you cast?
Sarah Booth (SB): My husband, Gavin, wrote the script with Daved and they already had someone in mind to play the lead with Daved. After a few name actor options fell through and the schedule was pushed back they needed to find someone ASAP. Gavin knew I could do the job and about a month later we were shooting. Some people might read this and think…damn… third choice… but the truth in this industry is producers want to get someone recognizable to sell their movie. So I completely understood why I wasn't a choice in the first place. Happy accident for me. This movie is an actor's dream.
What part or parts of the story challenged you when you first read the script? What drove you to join the project?
Sarah Booth (SB): When I first read the script the obvious challenge was "how do I make my performance dynamic/interesting/GOOD! in this one take movie?" As attractive as this challenge was it was also scary AF. Which is what I am naturally attracted to in life. Why?!
How did you prepare for your role?
SB: The character approach was pretty similar to a traditional script. Understanding where Beth is coming from, what she wants, her life, what is going on for her during this 76min slice of her life… but the real-time aspect changed the filmmaking process completely. The choreography was huge during rehearsal, so we would adjust the script to make the physical path of the film work and vice versa. We had to be fluid, on our toes, open to change, and willing to try a lot of different variations to make it work not just for myself but for the whole team.
The Official Trailer for LAST CALL written and directed by Gavin Michael Booth, starring Sarah Booth and Daved Wilkins
---
How did you bring the character from the script to life?
SB: I am not a fan of watching my own work. I do for the technical aspects of my job but I don't watch my performances over and over and over. Last Call required us to watch the finished movie since we recorded all the rehearsals, every day. Gavin would give us notes while we watched. It was a huge learning curve. Beth's emotional build was a giant piece of this film. I did learn how to play her effectively from playback. But I was also careful to study what had to be done in the future and then let it go before the next attempt.
Explain one creative choice you made at the onset of this production?
SB: After shooting rehearsals and watching the movie quite a few times, I told Gavin the script was not working. Well… it wasn't working for my character. Sounds like a diva moment but originally the script was written in a way that Beth's main objective was to keep Scott on the phone. Every time I felt like hanging up I would say it out loud and eventually, I convinced Gavin and Daved to rewrite the script.
How did you collaborate with Daved Wilkens from scene to scene?
SB: Acting with Daved in Last Call was such a great experience as an actor. We had to do the most basic things actors are supposed to do but often forget. Listen. Seems simple. But it was a challenge. Luckily we were all busy during the few weeks before rehearsal and that meant rehearsals were via telephone. By the time we got to set and started incorporating the environment, we felt very comfortable being vulnerable actors on the phone. Daved is also incredibly hilarious and kept me laughing throughout the whole process.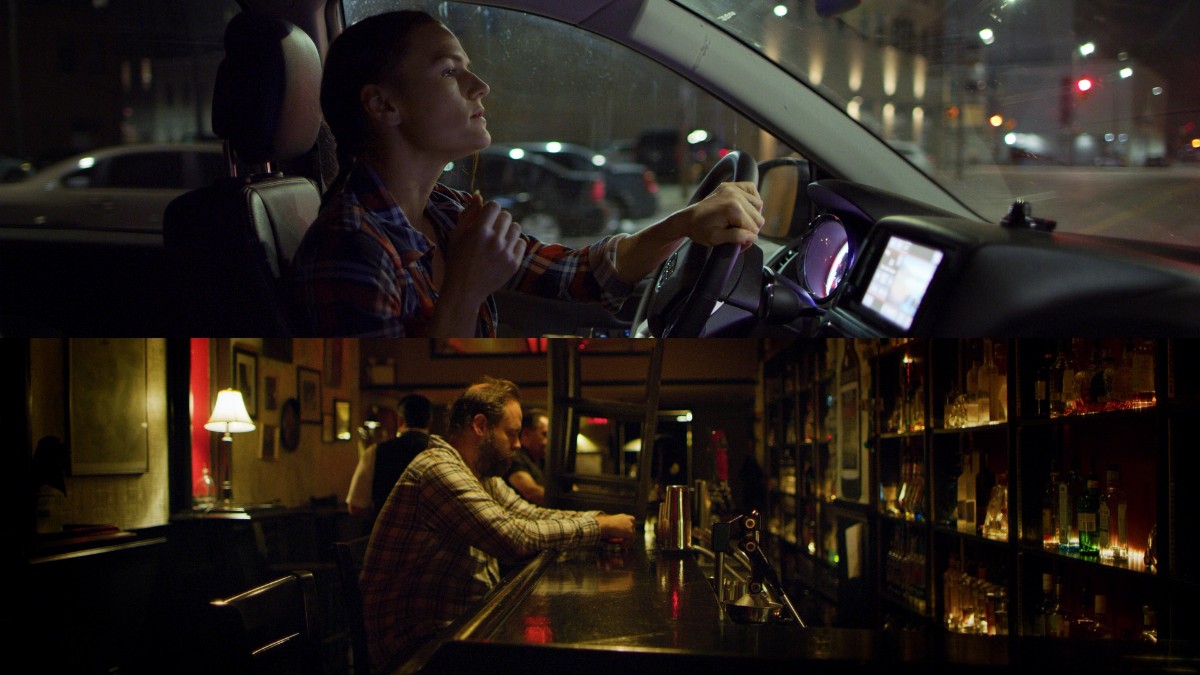 ---
As one of two leading roles in the film, describe the feeling of responsibility that you shouldered. Were you nervous? Or did it fire you up? What scene(s) did you find most difficult to shoot?
SB: I felt an enormous amount of pressure to deliver the perfect performance for Beth. I quickly found out that was not going to happen and that was probably the most freeing feeling I could ask for. Every take was slightly different. Mistakes happened. But the real magic was how we reacted to those mistakes. How it charged us up or changed a moment which then caused a domino effect for the rest of the take.
Having Gavin, my husband and creative partner, as the director really helped too. We have a shorthand and I take risks around him like no one's business. Sometimes that risk doesn't pay off or it's a bad choice but then I can tell him to suck it and we laugh.
What do you like most about working with the director, and his collaboration with his team?
SB: We can just look at each other and know what the other means or wants. Gavin understands me and knows my strengths and weaknesses. We question and challenge each other's interpretations. It's a gift to work with someone who gives you the ultimate freedom feeling.
After your experience shooting Last Call, is there any advice you would give other actors regarding what you learned on the project?
SB: Dive deep into challenging projects. Be proud of your work. Knowing you didn't hold back. You left it all on the screen. When the project is done, take care of yourself. Do what you have to do to recover from the experience and then move on.
What do you enjoy specifically about independent filmmaking?
SB: No one is there for the paycheck. Everyone is there because they want to make a movie. A movie they obviously care about because they are not being paid what they are worth. When you have less money you have to be way more creative. I really believe I get to do my best work in the indie world. No special shit. You rely on the creative team's talent.
What is next for you?
SB: I am currently working on a few shows. I can't really talk about them! Top secret! Gavin and I have another feature on the horizon so we are getting prepped for that. I am taking a great acting class on Zoom and auditioning like crazy. Life is good.
---
Tell us what you think of the interview with Sarah Booth. What do you think of it? What ideas did you get? Do you have any suggestions? Or did it help you? Let's have your comments below and/or on Facebook or Instagram! Or join me on Twitter.
Follow Sarah Booth on Social Media
Website
IMDb
Facebook
Twitter
Instagram