Interviews
The Making of Behind Closed Doors by Kaitlyn Lorraine Boxall

A Case Study
Narrative | Dramatic Features
Film Name Behind Closed Doors
Genre: Drama/Romance
Date: rd November 2020.
Director: Kaitlyn Lorraine Boxall
Producer: Kaitlyn Boxall – known from production name 'Ginger Paradise Productions'
Writer: Kaitlyn Boxall and Daniel Adam Li
Cinematographer: Luke Anthony Halstead, Jack Cobb, and Benjamin Lam
Editor: Kaitlyn Boxall
Composer: Josh Rogers
Production Company: Ginger Paradise Productions
Budget: Low-budget film and was independently funded
Financing: We financed it through incredible resourcefulness. We were clever financially, as we purchased cheap props and ornaments for set
Shooting Format: Digital – HD
Screening Format: H264
Website
Logline: Lisa Crawford (portrayed by Holly Prentice) is living through an abusive marriage until her best friend, Alison (Ellie Mulhern), refers her counsellor friend Aaron, primarily known as Mr Smith, (Portrayed by Vasile Marin) to Lisa as mental health support.
indieactivity: Tell us about "who you are"?
Kaitlyn Boxall (KB): I am an Independent Film Director and Producer. I have been an only child with just My Mother for 21 Years now. My Mum was in the Entertainment business as a country singer. I myself, have always preferred to be behind the camera. However, my mother grew up in front of them as a child model. That being said, I feel this is why I felt drawn to this side of the industry. I simply started off filming short films with childhood friends while we were growing up, and then for me, it simply turned into a passion for filmmaking. I then decided to take on a University Degree in Digital Television Production at Ravensbourne University, London by the O2 Arena.
Behind Closed Doors | Official Trailer (2021) Holly Prentice, Vasile Marin #BehindClosedDoors​
---
Introduce your film?
Kaitlyn Boxall (KB): The new film 'Behind Closed Doors' is based on a story of domestic violence, and how abused women have suffered before AND during the COVID-19 lockdown. The story is about a married woman named Lisa Crawford, who is trapped in an abusive marriage. Her friend, Alison, refers her to a counselor named Aaron. Primarily known as Mr. Smith. Mr. Smith offers himself to Lisa as someone she can simply confide in. Lisa finally accepts her need for a counselor and arranges to secretly attend Mr. Smith's appointments. However, is it not long until their professional relationship becomes a little more intimate than what they intended.
Tell us why you chose to write, produce, direct, shoot, cut/edit the movie? Was it financial, chance, or no-budget reason?
KB: I chose to write 'Behind Closed Doors' because it felt appropriate for this difficult time in society, in terms of the Coronavirus pandemic. The pandemic has worsened so many social issues, such as domestic violence in particular. Domestic violence has risen since the very start of the first lockdown.
Introduce your crew?
KB: As the storyline writer and director, I found myself taking on a lot of responsibility relating to different areas of the film. I wanted Lisa's story to be realistic and relatable to the real women out there who are actually living a life in fear. My camera crew was the people who made it possible to bring 'Behind Closed Doors' to life. Luke Anthony Halstead, was my main camera operator and he worked alongside me for the majority of the project, helping to develop each scene for on-screen adaptation.
---
What are your personal experiences putting on all these hats/responsibilities? Tell us about story, writing, and production?
KB: Despite having a lot of responsibility for the production, I do enjoy the creative control because I can have my say on just about everything. Having creative control allows me to get my vision across, and I always welcome a second opinion from my cast and crew. No matter what I work on, I like to hear what everyone on set has to say about each scene we may be working on. The opinions of others on set give me the opportunity of producing a film that will contain creative input from all different people. It is good to have control of your production as a director, but it always boils down to teamwork…and listening to what your team members have to say, is also very important. Because listening to your team members, gives you the ability to understand the perspective of other creators, and that helps me to progress as a filmmaker.
What is the source of the idea? How did the story develop from the idea? And how did the story evolve into a screenplay? Why do this story? Do you have a writing process?
KB: The story of 'Behind Closed Doors' is also inspired by my Mother's own story, who fled domestic violence. This being said, my Mother and I started off in a Women's Refuge when I was 3 weeks old. The film represents a lot of personal aspects, relating to my Mother's own experience. As the world is in lockdown, It felt like the right moment to release the film, because it is so relevant to so many women and children who may be suffering right now. We also created the production in collaboration with the Women's Aid charity, which provides life-saving services. If this film saves at least one person's life…I will be so happy with that.
Let's talk pre-production: take us through a timeline of how you started and ended it?
KB: 'Behind Closed Doors' simply started on a piece of plain paper, where I wrote a very basic storyline out about this abused woman. From that point onwards, I found myself developing the story from there. A lot of segments in the plot stemmed from what my mother had told me about her own experience with domestic violence. By hearing her experience, I was able to effectively write down scenes and create the characters.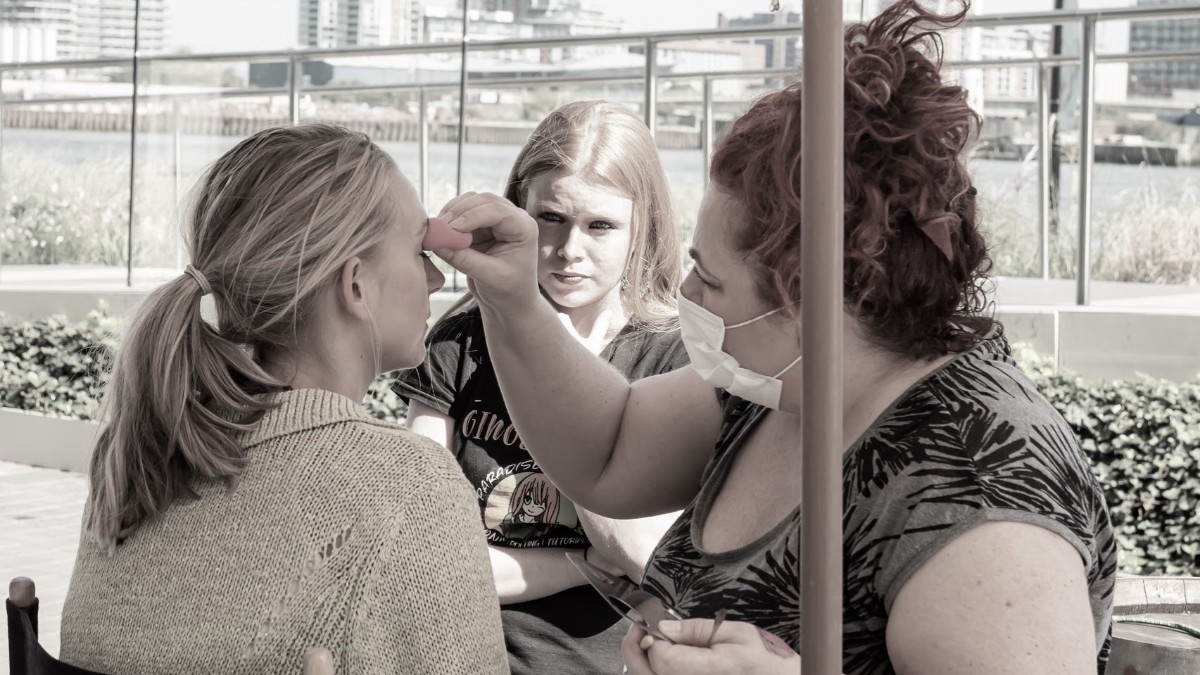 ---
What was your rehearsal process and period?
KB: The rehearsal stage of the production was undoubtedly very difficult because the main lead characters were so tricky to cast. I spent a great deal of time trying to find the right kind of actress to play Lisa Crawford. When I found Holly Prentice (professional dancer/actress), I instantly knew that she was the right person to portray Lisa. Holly also had great on-screen chemistry with Vasile Marin, who portrays Aaron Smith (Lisa's counselor).
You shot the film in days. How long were your days?
KB: The filming process took approximately two (2) months to complete.
Did the tight shooting schedule make it harder or easier? How did it affect performances?
KB: We had a fully completed cast in September (2020), and began the filming process almost straight away. Due to the situation with Coronavirus, I was determined to complete filming by end of October, as I know another lockdown was ahead of us all. This being my concern, I intended to get a lot down within the space of two (2) months. It is definitely a big challenge to get a film completed within two (2) months, as so much camera preparation, various takes, and cast rehearsals are involved.
During the film production of 'Behind Closed Doors', what scene (that made the cut) was the hardest to shoot? And why?
KB: In my opinion, the very first house scene between Lisa and her two kids, was difficult to work on. This is because it took a lot of takes and various camera angles, which ended up making the scene quite complex, despite it seeming simple on the script. It was also our very first day filming at that house, so we were discovering what would be the best way of carrying the scene out.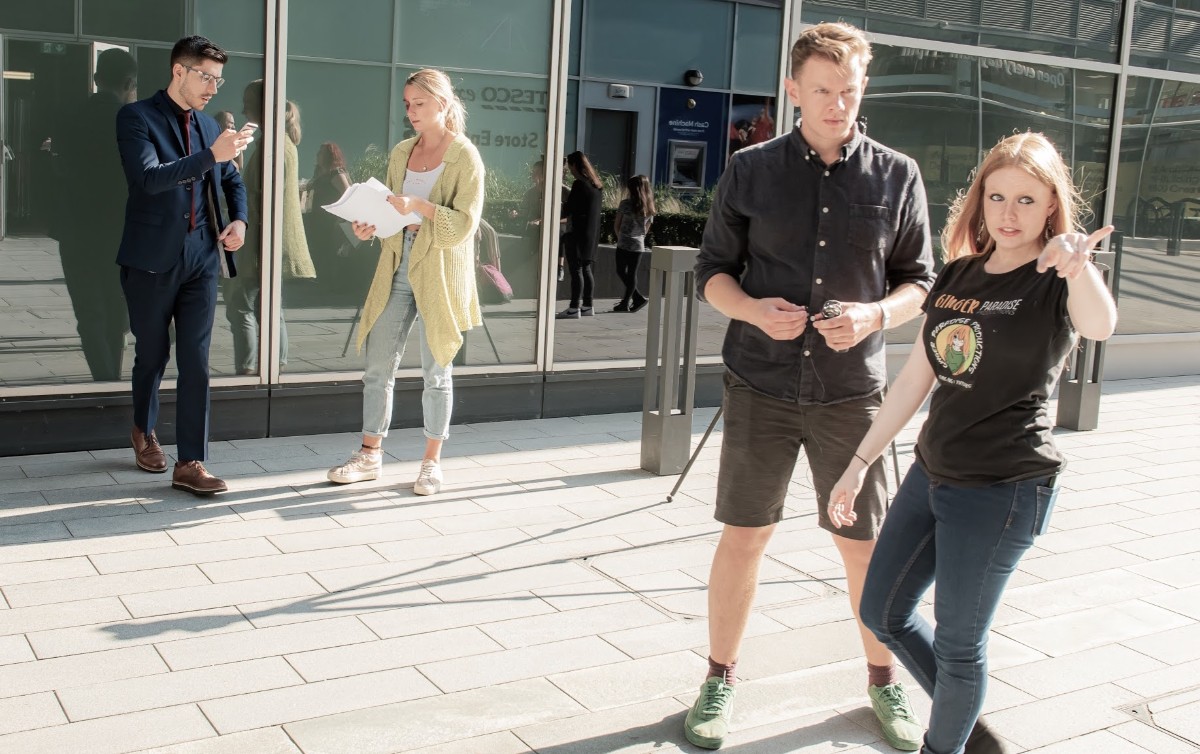 ---
What worked better in this latest production, which may not have worked so well in the last one you did?
KB: What worked so well in this latest production, is that I had a very reliable and experienced crew working alongside me. Everyone behind the cameras were very experienced, professional and committing. Each crew member had shown a real passion for the storyline, and we all got on well on-set.
What was the experience like of working with a small film crew?
KB: This film only required a small crew, which was an optimistic experience for me because I was able to bond with each crew member. That in itself shaped the way I was able to direct my team members, and we have become a closely knitted film crew.
The film looks very powerful, and triggers emotions. How did you get such a cinematic look when shooting?
KB: My main cameraman, Luke Halstead (production name; L.A Halstead) produced truly amazing filming due to the equipment he was able to bring to shoot dates. Luke is also a very experienced camera operator, which benefitted 'Behind Closed Doors' to a high extent.
When did you form your production company, 'Ginger Paradise Productions'– and what was the original motivation for its formation?
KB: I formed my production company name as, 'Ginger Paradise Productions' in 2019, where I began to grow as a professional filmmaker. I have been able to progress by collaborating with various creators within the film and television industry. This has also been supported by the 'Ginger Paradise' merchandise, which consisted of T-shirts, business cards, and leaflets, to help spread my name.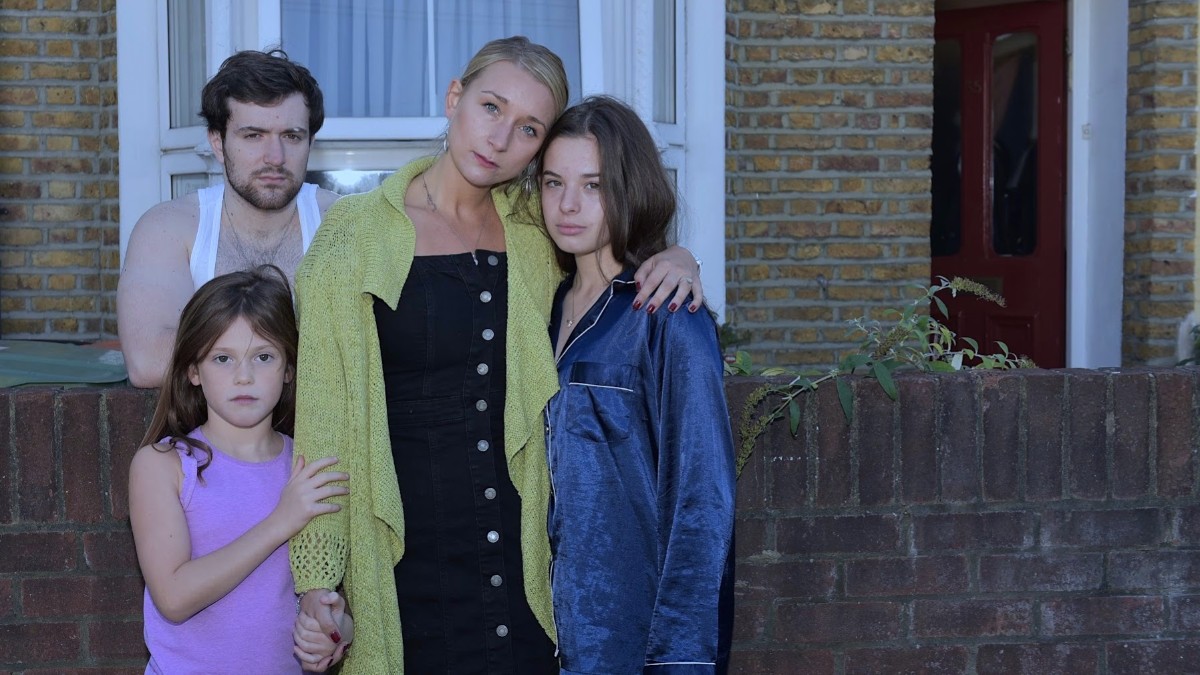 ---
What was the very first film project you produced?
KB: My very first film project was a film series titled the 'Killing Her Softly Trilogy'. This was my very first official indie film project in 2016. It was stemmed from being a one-off film project for a film studies class, which then progressed into a film series. By doing this film project, I was able to discover new things about being a filmmaker, and all kinds of filmmaking words such as 'on-set continuity' and 'Mise-en-scene', which helped me to understand how important lighting and background consistency is in films.
What about the filmmaking industry do you still struggle with, in terms of roles within filmmaking?
KB: I have always felt more drawn to writing storylines, directing, producing and even editing. I have always flexed between all these roles and that always put me to a big advantage when it came to taking on different roles in film projects. On the other hand, other roles such as lighting and sound, are not my strong points as I found myself steering more towards my true strengths and areas of knowledge, where I have been able to express my creative vision.
Where do you think your strengths lie as a filmmaker?
KB: Within the filmmaking industry, you naturally discover your strengths and weaknesses in each role. I believe it also depends on what spikes your interests and gives you the ambition to create. In my case, it has always been writing original, hard-hitting stories, and expressing my vision by directing actors to portray what I want to be represented to viewers.
Let's talk finance, how was the film financially supported in terms of budgeting?
KB: It is always possible to financially support a film, but it also depends on what the storyline is. When it comes to realistic dramas, it can easily be done on an incredibly cheap budget. Most importantly, it also works by being resourceful, and if you can do that, then that in itself is a challenge accomplished!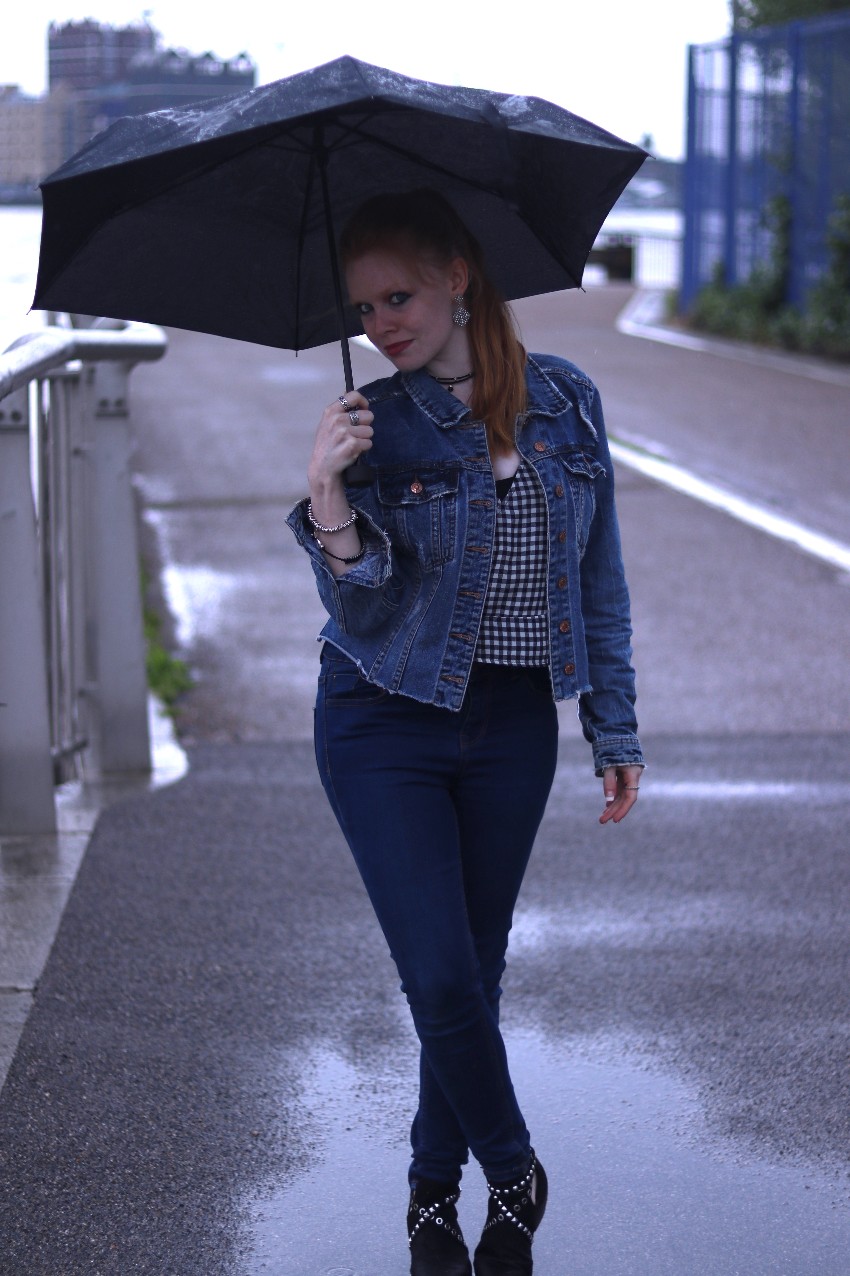 ---
Tell us about marketing activities or efforts on 'Behind Closed Doors' – and how it worked or didn't work?
KB: I chose to publish 'Behind Closed Doors on my YouTube channel 'Ginger Paradise Productions'. By releasing it in a public manner via YouTube, the film gained a lot of attention from all different countries such as India, America, the Philippines, and more! Because of the international attention, it has received, I was then receiving offers from distribution companies, enquiring about the possibility of a sequel, as the film is very open-ended!
What do you hope audiences will get from the presentation of the film?
KB: By creating this film, I hope both women AND men take something positive from it. You cannot go back and change the beginning, but you can start from where you are and change the ending. This is our message to domestic abuse victims across the world. Yes, you cannot rewind your situation, but you have the power to change how your story ends!
What else have you got in the works?
KB: We are definitely considering the possibility of a sequel, due to the fan base of the film. I have been inundated with requests from fans for a second film, so we are looking into how we can introduce some closure to Lisa's story in a sequel.
---
Tell us what you think of the Case Study for Behind Closed Doors What do you think about it? Genre? More genre? Let's have your comments below and/or on Facebook or Instagram! Or join me on Twitter
Follow Behind Closed Doors on Social Media
Website
IMDb
Facebook
Pinterest
Stage32
YouTube