Interviews
The making of BLACK BOYS CAN"T CRY by Victor Gabriel

A Case Study
Narrative | Dramatic Features
Film Name: Black Boys Can't Cry
Genre: Psychological Drama
Date: November 2019
Director: Victor Gabriel
Producer: Jordan Tyner
Writer: Victor Gabriel
Cinematographer: Robert Hunter
Editor: Camilla Bartolli
Composer: Diego Rojas
Production Company: AFI Conservatory Produced short film
Budget: $5,000
Financing: Self-Financed
Shooting Format: 35mm
Screening Format: 2:0:1
World Premiere: African American Film Marketplace and S.E. Manly Short Film Showcase
Awards: 8 +
– Best Short Film (Hollywood Just4Shorts)
– Best Super Short Film (Salute Your Shorts!)
– Best CINEMATOGRAPHY (Under 5 Min. Film Festival)
– Best Short Short (Toronto Independent Film Festival 2020)
– Best Mental Health Awareness Short Film (Urban Mediamakers)
– Social Impact Award (Hollyshorts)
– Excellence Award (Canada Shorts)
– Best Short Film Reviewers Award (Gary International)
Website: N/A
indieactivity: What is your film about?
Victor Gabriel (VG): The name of our short film that I wrote and directed is called "Black Boys Can't Cry". The story is about a black man who is a Father and a Husband, and in the middle of the night is overtaken by an inexplicable force and begins to attack his family. It has some slight horror and psychological thriller elements but mostly is it about a man who comes face to face with his unresolved past.
The Official Trailer for Black Boys Can't Cry written and directed by Victor Gabriel
---
Though I am a writer/director who is also a recent graduate of AFI Conservatory, I am also a Marriage and Family Therapist (MFT) who specializes in trauma and I facilitate a "Black Male And Trauma Group". The topic of sexual assault has come up multiple times and even in my own personal life, I have deal with molestation. However, it is almost nearly impossible to deal with as black men are not given spaces to grieve their trauma. I wanted to show what happens when black men don't, who it affects and also how we can all be more in tune with each other's pain.
Tell us about the festival run, marketing and sales?
Victor Gabriel (VG): To be completely honest I am a black man in Compton CA and my DP, Robert Hunter is Native and we come from low-income backgrounds. This shit came out of our pockets and we just submitted it to Film Freeway and hoped for the best. By the grace of God, we were able to make it in MULTIPLE film festivals, HollyShorts being the most high profile one, and we are still hoping for more. But we have no money, nor do we have any Hollywood connections. Hopefully our story does the work for us.
Give the full Official Synopsis for your film?
Victor Gabriel (VG): Javion is a dutiful and loving black father. He is the protector and provider of the family, including his wife, daughter, and grandmother. However, he is haunted by a secret that he continues to bury in silence. Not knowing how to deal with the trauma, he attempts to hide the behemoth inside him that is trying to break out. But not until tonight when he is finally overwhelmed, and he attacks his family while he ultimately comes face-to-face with his painful past. Only the prayerful hands of his grandmother can help channel his buried emotion from taking control.
---
Development & Financing?
VG: My brother in creativity, Robert Hunter is a Cinematographer at AFI and for his thesis had to come up with a "Visual Essay" of sorts. He came to talk about ideas and I had been wrestling with some thoughts about how to talk about sexual assault among black men, I presented to him my idea. And the script was done the next week. Which I should say, is not always typical, sometimes things take forever, and some things are quick. I was blessed that this came together almost immediately, in terms of story and script. It was a 5k budget and that came out of both Robert's and my pockets. Even though it was all we had, I was grateful to even come up with that.
Production?
VG: Our production process began with breaking down the script. We first identified our locations, cast, production design needs. From there, we built a prelim budget with our cap in mind ($5k) and started to dictate what we can afford with our project. The key was finding a single location that could work for all the sets we needed and willing to take a reduced rate. After locking in our location, we built a shooting schedule around a two-day shoot. Most of our film took place at night, but we worked with minors in each scene, so we had to consider the time needed to shoot day-for-night and which scenes had to shoot during the nighttime. Since shooting on film, another important aspect was to evaluate the time required for rehearsals.
We were limited to the amount of film we had available, so we had to make sure we took only a few takes of each scene as possible – our goal was three max, but ideally, one took each shot. We saved a lot of time by not having any dialogue in our film; however, we still recorded sound to capture the atmosphere and natural sound effects that we could use in the edit. Once we wrapped filming, we had our 35 mm film processed, and a couple of days later, we had our first editors cut. Editing took a few months because our 3 minutes TRT cap was challenging to accomplish as we had to cut some material. We didn't have ADR to record, but once we picture locked, we finalized our film after a few weeks of working with our composer to perfect the score.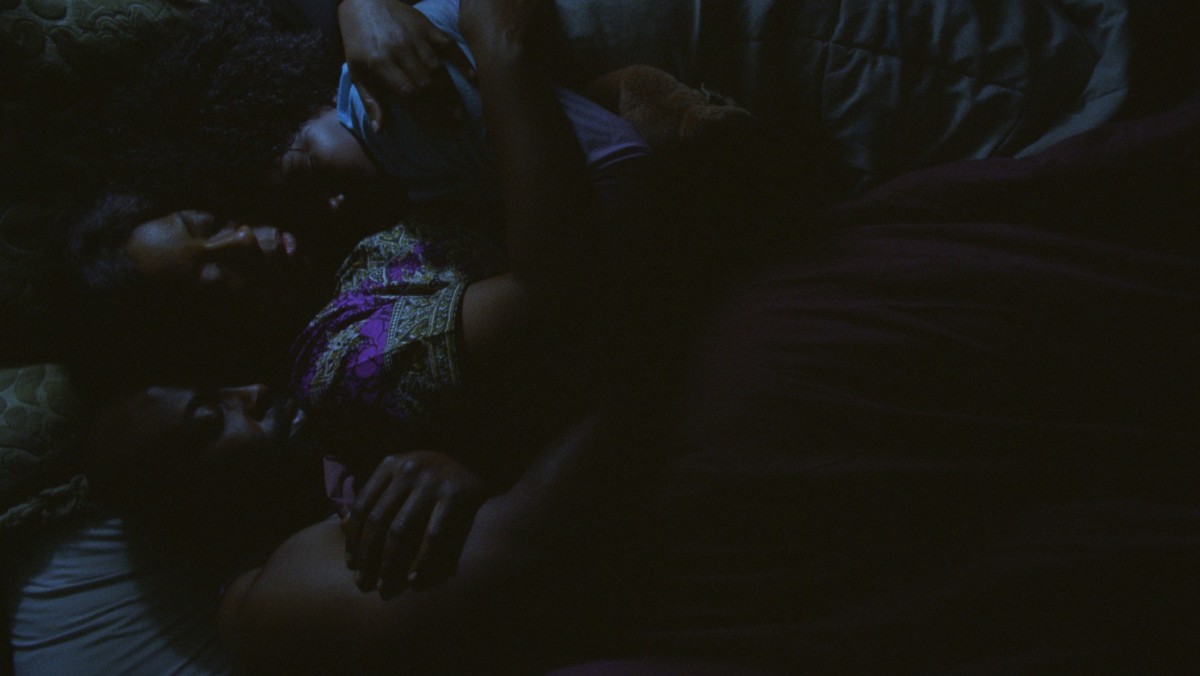 ---
Festival Preparation & Strategy?
VG: We did not have any PR to be honest with you, everything was just submitted through Film Freeway. We did not know any programmers at any festivals nor had any inside connections. Again, our strategy and marketing was make the story as powerful and impactful as we could.
The Release?
VG: Right now it is still going through its festival run so we have yet to release it.
Advice from the Filmmaker?
VG: I am the last person to give advice about filmmaking hahaha. The truth of the matter is I don't know shit like I maybe know something I think? But mostly I don't know shit, I try my best to speak from my soul, and I bring with me the prayers and power of my people, my family and friends, their horrors, triumphs and tragedies. I take those and bleed it out on the page. And then I find dope ass people to collab with to get the vision out in the world. Truth be told, the best advice is to be fully present with your internal malaise and live in gratitude with the motherfuckers who are the reason for why you are here today because in truth you and I are underserving. I know I am and I owe it to the people who have loved me.
---
Tell us what you think of the Case Study for Black Boys Can't Cry What do you think of it? Let's have your comments below and/or on Facebook or Instagram! Or join me on Twitter.
Follow Victor Gabriel on Social Media
Website
IMDb
Facebook
Instagram
Vimeo