Interviews
The making of 'Cranberry Nights' by Sara Robin

A Case Study
Narrative | Dramatic Features
Film Name: Cranberry Nights
Genre: Coming-of-age drama
Date: 2020
Director: Sara Robin
Producer: Matias Letelier, Sara Robin
Writer: Sara Robin
Cinematographer: Casey Stolberg
Production Company: Piko Productions
Budget: $20k
Financing: crowdfunding, self-financing, grants, and a lot of generosity on part of my crew!
Shooting Format: Arri Alexa Mini, spherical glass
Screening Format: 2.35 : 1 UHD
World Premiere: Toronto in March at the Female Eye Film Festival
Awards: Best Director, Best Film, Best Social Justice Film
Website: https://cranberrynights.com
indieactivity: What is your film about?
Sara Robin (SR): Cranberry Nights tells the story of Juana, whose life is uprooted when her friend unwittingly reveals the secret that she's undocumented. The specifics of the story are fictional, but the film was inspired by a series of conversations I had with undocumented young people, and also by my mother's experience being a refugee in Germany in the 80s.
The Official Trailer for Cranberry Nights written and directed by Sara Robin
---
indieactivity: Tell us about the festival run, marketing and sales?
Sara Robin (SR): Cranberry Nights premiered at the Female Eye film festival earlier this year, and then honestly due to Covid it was quiet for a while and I got a bit worried if this was just the wrong year to release something. But the festival run really picked up later in the summer, and throughout this fall. We've screened at a dozen festivals so far, including HollyShorts, SCAD Savannah,  St. Louis, and won awards for best directing, best film, and best social justice film.
Give the full Official Synopsis for your film?
Sara Robin (SR): Cranberry Nights tells the story of 16-year old Juana, who sneaks out behind her mom's back to party with her friends. But she has a secret that only her best friend Kelly knows about: Juana is undocumented. So her friends don't understand why she isn't into all the forbidden things teens love. She pretends to drink, but replaces her cocktail with a cup of cranberry juice. She tries to act cool, but she is nervous. At a certain point in the night, Juana has to decide between fitting in, and doing what's responsible. And then Kelly, in trying to help her, makes the whole situation worse.
What inspired you to make your film?
Sara Robin (SR): My mother came to Germany in the early 80s as a refugee from Poland. She endured several years where she was accepted, but not supported. She was able to stay in Germany, but didn't have the right to work or study. I grew up very protected, but her experience opened my eyes to the injustices inherent in our highly selective immigration system. In the era of depression that followed the 2016 election, I came across Julissa Arce's autobiography "My Underground American Dream". Her story about making it all the way up to VP at Goldman Sachs, all the while she was undocumented, was riveting, groundbreaking, inspirational – one of those stories you read and think "the world will be a better place if everyone reads this". As I was reading Arce's book, the new administration didn't waste any time, and got to work to dramatically unravel protections for undocumented immigrants. By the time I finished the book, DACA had been rescinded. I wanted to see a story like Arce's on the big screen, I wanted it badly! And so I started writing the first draft of Cranberry Nights.
---
What do you hope people take away from watching your film?
Sara Robin (SR): I created Cranberry Nights to show that undocumented immigrants are not "other" – they are Americans, community members who pay taxes, human beings like you and I. Not, as the president will have it "animals". As with many groups in society, we have ingrained ideas in our head of what they are like, but prejudice only serves to keep us apart, create fear, and keep us in check. By showing Juana, presumably a regular American teen, navigate classic coming of age challenges, and learning only later that she is in fact undocumented, Cranberry Nights reminds us that we are more alike than we think.
Development & Financing?
Sara Robin (SR): I spent over a year from the initial idea until I had a solid draft. Even then I kept re-writing it. As I wrote, I reached out to undocumented youth organizations and eventually got lucky and found people who would talk to me about their experiences. Above all else, it was important to me that I represent undocumented young people in a way that is grounded in reality. So a lot of script revisions came about after conversations I had with undocumented and DACA-mented activists and educators. I was really touched by how openly people shared their story. It's a risky thing to do, a lot of trust was put into this film.
I financed the film through a combination of crowdfunding, grants, and self-financing. Even then, it would have never been possible without the generosity of my cast and crew. They really went above and beyond on our shoestring budget, and made this ambitious shoot happen despite the limitations we faced.
Production?
Sara Robin (SR): I started with casting. I wasn't committed to the project at that point, I decided to see first who I would find, to see if it was the right time to do it. I knew this would stand and fall with the right cast. And then I found the whole group almost instantly – and I knew I had to do it, and somehow had to figure out the money. That's when we really got into pre-pro mode, our producer Matias and associate producer Aura came on board. We did a Kickstarter, got a camera grant from Panavision that was a life-saver, and I put some personal funds on the table to fill the gaps. Our DP Casey came on board pretty early on which was great. So he was able to review locations with me, get a shot list together, so once we hit the set we were ready to go. We had two rehearsals – I love rehearsals, and so much that made the performances in the final film shine was discovered there. It's really a space where you have the freedom to explore without fear of failure. That's true for the director as much as the cast. Especially as a writer-director I find that I need the rehearsal space to feel out what doesn't translate well from the page into performance, so that there's a chance to tweak and perfect it. I was also lucky to have my friend Izzy with me as our scripty & background director. She is an actress by trade, and was able to jump in with ideas when we hit a dead end.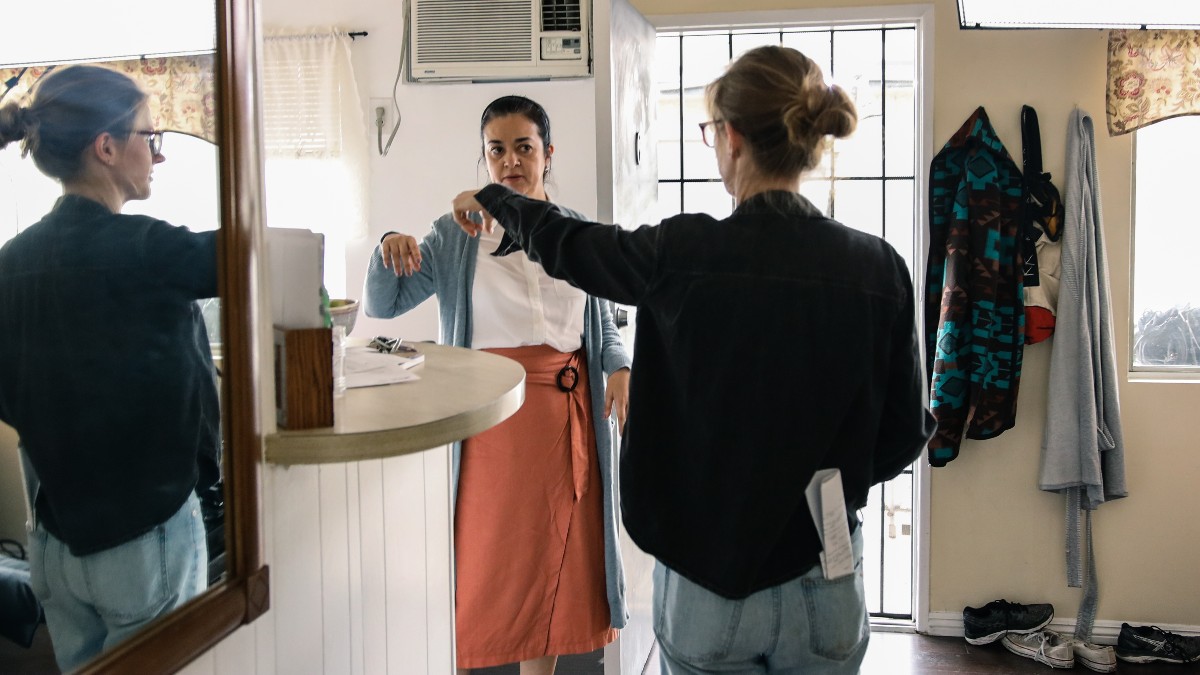 ---
We shot the film over three days, well, mostly nights! So it wasn't an easy shoot, a lot of things get more complex when you shoot at night, like permits, food, light, bathrooms. You really have to plan and make sure you have all of the equipment in place. My boyfriend was on set cooking coffee for us every night, and we wouldn't have lasted without him! And we had to manage people's energy throughout. The final scene was really tough for Sarah (Kelly) and Inde (Juana). It was past midnight, it's emotionally draining, and there are only so many takes you can do that for. We simplified the shot list on the fly to allow the actors to give their all, without having to redo the scene too many times. It was a scary thing to do, because there really was no coverage, but it paid off.
I'll spare you the trials and tribulations of post – we had a false start on the edit, and so finishing got drawn out. Once we finally had our editor Jess on board, the project really started taking shape, and we had a great time in edit. David Murillo R. did an amazing job on the score, one of my favorite things about the film is how the music effortlessly transitions between diegetic and non-diegetic. It creates that dreamstate that I associate with a night out, where reality becomes more fluid. And where ecstasy can suddenly turn to fear and desperation. The music captures that so well.
Festival Preparation & Strategy?
Sara Robin (SR): We researched festivals quite a bit a few months ahead of finishing the film. I also spoke to filmmaker friends who recently had films in the circuit to get advice. Obviously, we typically all know the big names, but there are amazing festivals outside of the "50 Festivals Worth the Entry Fee" list that put a lot of care into their programming and are enthusiastic to engage and connect filmmakers. Those are the kind of festivals you only find via recommendations – and sometimes by pure luck! My strategy has always been to submit to a variety of festivals, get a few of the big ones, but leave enough room for small lesser-known festivals, because oftentimes that's where the most meaningful connections happen.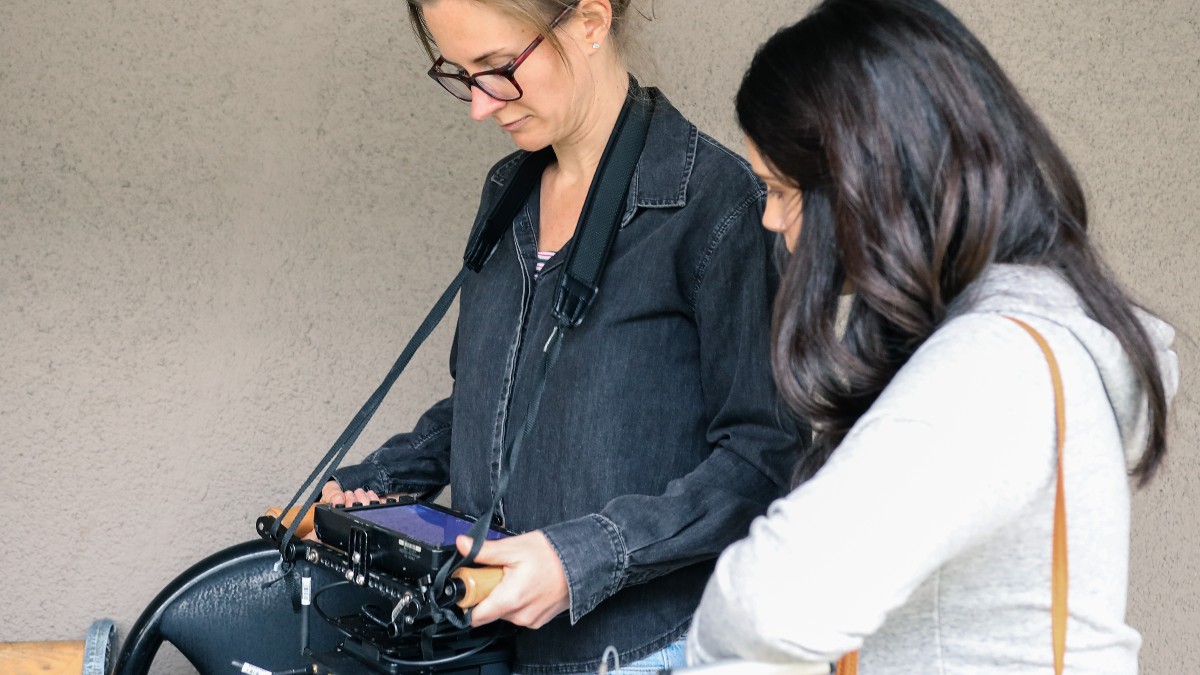 ---
The Release?
Sara Robin (SR): Cranberry Nights premiered at the 19th Annual Female Eye Film Festival in Toronto in March, right before the world went into lockdown. We managed to squeeze in a screening for cast and crew as well, before we were all confined at home. Going forward I'm hoping we can use it as an educational tool as well, something that can be a conversation starter in a community or school setting, and help us address implicit bias and the question the notion that undocumented Americans are somehow "not American".
Advice from the Filmmaker?
Sara Robin (SR): The advice question is a daunting one, you know! You want to be helpful, but there's almost no escaping platitudes when you direct advice at a general audience. In my experience, the most helpful advice has often been some very concrete notes. Things like "don't shoot handheld with a small camera on a 100mm lens". But I think as far as general advice goes, make a film about something you care about. Whether it's a topic, a person, a setting, a specific visual style – you need to love that thing, because that's the energy that you'll work from when shit hits the fan, as it invariably will. It's also the energy that gets people excited about your project, and that will attract the right people to your project. I spent a long time researching and writing and rewriting Cranberry Nights, and it paid off because in the end I knew what I was talking about and why. I came to appreciate it on a whole new level, and that's ultimately what gave the film its heart and soul.
---
Tell us what you think of the Case Study for Cranberry Nights What do you think of it? Let's have your comments below and/or on Facebook or Instagram! Or join me on Twitter.
Follow Sara Robin on Social Media
Website
IMDb
LinkedIn
Instagram
Vimeo