Interviews
The making of DIDI by Rehan Mudannayake

A Case Study
Narrative | Dramatic Features
Film Name: Didi
Genre: Drama
Date: 12th January 2020
Director: Rehan Mudannayake
Producer: Sonia Thosar
Writer: Radhika Jani
Cinematographer: Freddie Rodgers
Production Company: Chromosomes
Budget: $600
Financing: Personal (Rehan Mudannayake), and UCL (University College London Film Society)
Shooting Format: Digital
Screening Format: Digital
World Premiere: Hollyshorts Film Festival
Awards: N/A
Website: fb.com/didishortfilm
indieactivity: What is your film about?
Rehan Mudannayake (RM): DIDI is the story of a young British Indian woman who is faced with a momentous decision when she is reunited with her long-lost sister.
The Official Trailer for DID written by Radhika Jani and directed by Rehan Mudannayake
---
Tell us about the festival run, marketing and sales?
Rehan Mudannayake (RM): DIDI has made it into 3 prestigious festivals in the last month: Hollyshorts, MISAFF, and LIFF. It had its World Premiere at the 2020 Academy Award-qualifying Hollyshorts Film Festival, one of America's top film festivals. The Mosaic International South Asian Film Festival (MISAFF) in Ontario – a Canadian Screen Award-qualifying festival – will serve as DIDI's Canadian premiere. MISAFF is Canada's premier South Asian Film Festival and has a history of presenting award-winning and critically acclaimed titles. The third festival is Louisville's International Festival of Film.
Give the full Official Synopsis for your film?
Rehan Mudannayake (RM): DIDI explores the relationship between two British Indian sisters. When Tamanna is reunited with her long-lost sister Aarushi, she is faced with a momentous decision that will impact their relationship forever. Heartfelt, gripping, and thought-provoking, DIDI is a story of the little moments that warrant attention.
Development & Financing?
Rehan Mudannayake (RM): I was a few months into my Master's at University College London (UCL) when someone on my course mentioned that our Film Society – best known for producing a number of notable alumni including the film director Christopher Nolan (Inception, The Dark Knight) and producer Emma Thomas (Interstellar, Dunkirk) – was funding a narrative short film. The selected script for Term 1 – written by another Master's student, Radhika Jani – was sublime, thought-provoking, and captivating.
---
I was amazed by the authenticity of Radhika's script: much of the dialogue was in the vernacular. She'd even written in some Hindi. The script for DIDI was mesmerizing because of the rich and nuanced world she had created; her attention to detail, in particular, was impressive. I also loved that much is unspoken between the two sisters. In many ways, DIDI is a study of the little moments that warrant attention.
I felt compelled to take on the project, so much so that I marched into the interview room the next day and demanded they give me the directorial position! The film was financed by myself and the UCL Film Society for just USD 600!
Production?
RM: Radhika's original script read more like a play: there was too much dialogue! So over the three weeks, we were given to prep the movie, I reworked the script by tightening it up so it looked and sounded more like a short film. I'll be honest, I was terrified that she'd ignore my feedback – as some first-time writers might do – but she was always open to constructive criticism and new ideas. I tried to be as respectful of the story as I could; every change made to the script was sanctioned by her.
We then conducted auditions for the role of the older sister Aarushi. Humaira Iqbal blew us away with her vulnerability and honesty: her performance was so nuanced and moving that the three of us – the other two being Radhika (the writer) and Sonia (the producer) – cast her on the spot. It was one of the best decisions we made.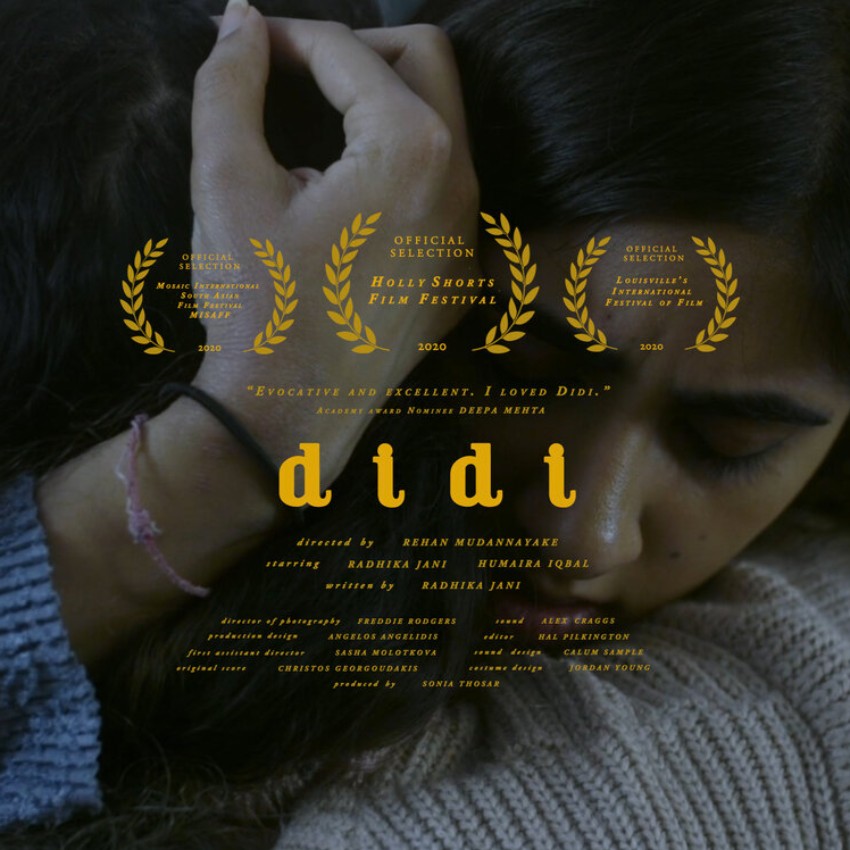 ---
In rehearsals, we played around with the words on the page, experimenting with line structure and diction, in an effort to create dialogue that felt true to the characters and narrative. Filming took place over two chilly 17-hour days in and around Bounds Green and Brixton, in December 2018. Editing took roughly 7 months, in between lectures, seminars, and essay writing! My editor Hal Pilkington would pop over to my flat in Shoreditch, and work on the film with me 2-3 nights a week. Making DIDI was one of the most demanding but defining experiences of my time at UCL, and the cast and crew became family. I'm still close to many of them and we're planning on collaborating again in the not too distant future.
Festival Preparation & Strategy?
RM: The film is at the beginning of its festival run. When applying to festivals, we targeted A-list festivals receptive to diaspora stories. Hollyshorts appears to have drawn a huge audience and created much buzz around the film!
The Release?
RM: We premiered DIDI at University College London back in January 2020 to a crowd of 220 people! Our audience was made up of industry heads, filmmakers, professors, students, friends, and family. Not only was it a full house, but the theatre was so packed that the entrance was blocked and people were seated on the steps and the floor!
Advice from the Filmmaker?
RM: Write stories that are personal to you: this is the key to making powerful cinema. Also, write for yourself first, and your audience second.
---
Tell us what you think of the Case Study for DIDI What do you think of it? Let's have your comments below and/or on Facebook or Instagram! Or join me on Twitter.
Follow Rehan Mudannayake on Social Media
Website
IMDb
LinkedIn
Instagram
Vimeo