Interviews
The making of FLOURISH by Heather María Ács

A Case Study
Narrative | Dramatic Features
Film Name: Flourish
Genre: Drama/Comedy
Date: 2020
Director: Heather María Ács
Producer: Vanessa Haroutunian
Writer: Heather María Ács
Cinematographer: S. Tricker
Production Company: FemmePower Productions
Budget: N/A
Financing: Brooklyn Arts Council, crowdfunding
Shooting Format: N/A
Screening Format: N/A
World Premiere: Outfest Fusion People of Color Film Festival Flourish
Awards: N/A
Website: https://femmepowerproductions.com/originals
indieactivity: What is your film about?
Heather María Ács (HMÁ): In Flourish, a fabulous drag queen must disentangle from an unhealthy relationship, while a young, non-binary couple attempts nonmonogamy. Can the magic of a queer dance party bring the lovers together and the transformative power of drag set this queen free? Flourish features a brilliant cast with an array of intersectional identities, including Black, Asian, and Latinx leads who are trans, nonbinary, and queer, as well as immigrant and disabled. Our out, queer actors have been featured on shows such as Broad City, Empire, Shameless, and Ramy, and have worked with Ryan Murphy, Lucy Liu, and Kal Penn. Flourish is the second film in a series of shorts produced by FemmePower Productions and the basis for a series currently in development. You can watch the first film, Flu$h. FemmePower Productions commits to intersectional equity on screen and behind the scenes. We believe that representation matters and commit to creating the change we want to see in media and culture.
The Official Trailer for Flourish Queer Short Film written and directed by Heather María Ács
---
Tell us about the festival run, marketing and sales?
Heather María Ács (HMÁ): Flourish is having an excellent festival run. We premiered at Outfest Fusion People of Color Film Festival in Los Angeles, directly before the mandatory quarantine. We were incredibly lucky to attend the festival in person with all the fabulous screenings, parties, and bringing LOOKS! That was the last public event I attended. In the months following we played Outfest's online pride festival and I created the free streaming platform, FemmePower TV – queer content for quarantine, a program of innovative and intersectional shorts. From there, most of my energy went towards the uprisings for racial equity and social justice. Then, in September, we received a wave of festival selections, including HollyShorts! I was thrilled to receive the email from HollyShorts because this was one of the main festivals my amazing producer, Vanessa Haroutunian pushed for.
HollyShorts was also our first non-LGBTQ-specific festival and it is so important that allies support our work. Prior, I had almost given up on this festival run, which was heartbreaking because we worked so hard, but now we've screened at eight festivals, with more forthcoming that I can't announce yet, including an international premiere! So, for 5 months, there was nothing, and then all of a sudden, the festivals started pouring in and haven't stopped! Sign up for our email list to stay updated on our festival run. Flourish Official 2020 Selections: Outfest Fusion People of Color Film Festival, Los Angeles; HollyShorts Film Festival Los Angeles; Big Apple Film Festival, NY; Newfest: New York's LGBTQ Film Festival; Seattle Queer Film Festival; Indianapolis LGBT Film Festival; Reel Q Pittsburgh LGBT Film Festival; Outfest United in Pride Festival
Give the full Official Synopsis for your film?
Heather María Ács (HMÁ): Flourish follows five characters at a queer dance party and drag club. A seasoned drag queen struggles to disentangle from an unhealthy relationship while a young queer couple stumbles through nonmonogamy. The stories swirl together as the magic of a queer dance party pulls us in and the transformative power of drag allows us to break free. Fusinghumourr and authenticity, Flourish reaches beyond LGBTQ coming out stories and trauma narratives, offering a fresh and fashion-forward, intimate portrayal of queer, radical subcultures. These characters rally against the status quo in order to survive and thrive in a destructive world. It is through this divergence and its challenges, that they find joy, community, mutual support, and love. 
---
Flourish features a brilliant cast with an array of intersectional identities, including Black, Asian, and Latinx leads who are trans, nonbinary, and queer, as well as immigrant and disabled. Our out, queer actors have been featured on shows such as Broad City, Empire, Shameless, and Ramy, and have worked with Ryan Murphy, Lucy Liu, and Kal Penn, among others. Flourish features Justin Sams (Marvel's Cloak & Dagger), Poppy Liu (NBC's Sunnyside), Becca Blackwell (High Maintenance), Delfín Cano, Oskar Gantuah, Summer Minerva, Morgan Sullivan (Dirty, Sundance 2020), Ryan J. Haddad who plays the beloved recurring role of "Andrew" in The Politician, and an all-queer soundtrack with Cakes da Killa, Ah-Mer-Ah-Su (Billboard's Top LGBT artists), Delish Da Goddess (TNT's Claws), Cristy Road Carrera (Next World Tarot), Doll Muscle, and Bodhi Landa. The authentic queer, underground looks were designed by Dusty Childers (The Shawl, Sundance 2020) and Rodrigo Chazaro (Jason & Shirley), with wardrobe provided by Garo Sparo (Project Runway Finalist 2019), Diego Montoya (RuPaul's Drag Race), and Alexis Bittar.
Development & Financing?
Heather María Ács (HMÁ): My projects are love letters to my communities and gifts to the world beyond. My formative years in punk and diy ("do it yourself") culture taught me to pursue my creative visions outside of mainstream industries, without waiting for permission or approval. I started FemmePower Productions, with a commitment to center under-represented artists on screen and behind the scenes. I am a queer, mixed-race Anglo-Xicana, cis, femme artist (s/her/Mx.) who has worked in film, performance, and community arts organizing for years. I believe that telling authentic queer stories about joy and resilience is an act of resistance. My work is embedded in honesty, conflict, vulnerability, and drama, but my characters do not die. We do not lose. We survive. And thrive. All while looking fabulous.
Flourish is the second film in a series of original shorts produced by FemmePower Productions about intersectional, queer radical subcultures. In Flourish, I wanted to juxtapose different phases of romantic love-the initial sparks where everything is new and exciting, with the heartbreaking, epic moment where you realize you have to leave in order to be free. Non-monogamy is an embedded part of my queer communities, which I rarely see on screen, so I wanted to reflect on this beautiful and complicated practice. I also wanted to explore making boundaries when you love someone who deals with addiction without ostracizing them. I thought it would be impossible to find a queer break-up song, but Ah-Mer-Ah-Su's lyrics, "I don't need you, though I feel you," and "We can get better, just not together," were perfect AND made a fabulous drag number!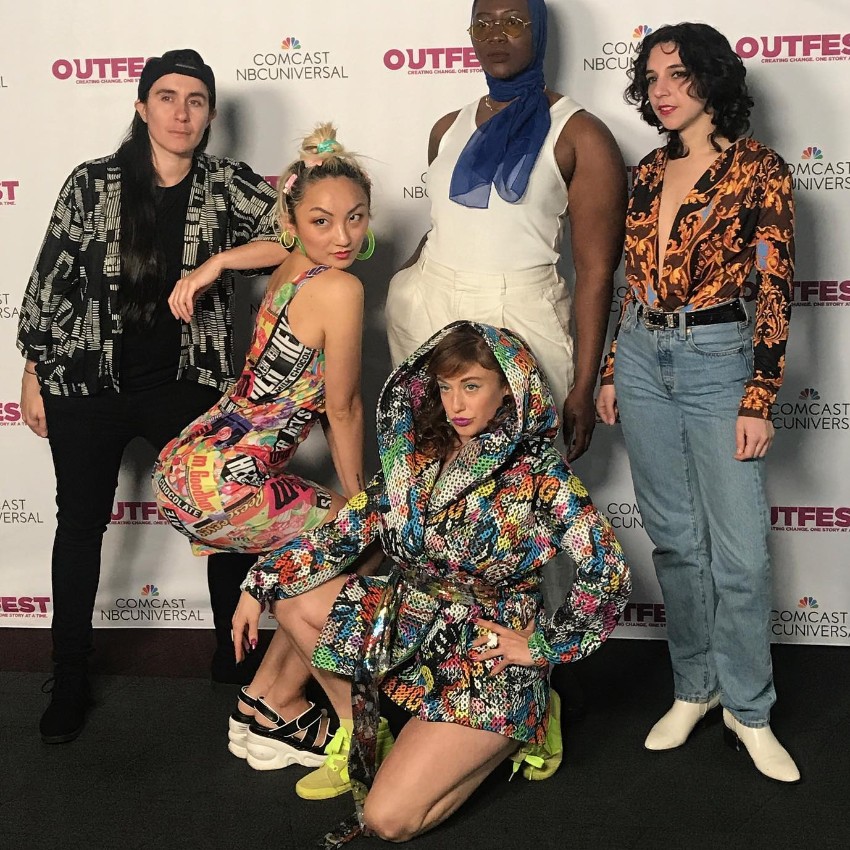 ---
Our first project, Flu$h – about queer hustlers and a group domination session that goes awry – premiered at the prestigious LGBTQ film festivals, Outfest (Los Angeles) and Newfest (NYC), and was an official selection of Oaxaca Int'l Film Fest (Mexico), Seattle Queer Film Festival, Contrast Film Fest (Austin), Long Beach Queer Film Festival, and GrrlHaus Cinema (Berlin). Watch Flu$h.
Our projects are community-based, so partially funded through the Brooklyn Arts Council and the generous donations of our crowdfunding supporters.
Production?
HMÁ: I believe I have shot in every room of my apartment at this point, and some more than once! I often shoot when a roommate moves out, before the next one moves in, so our team can dress that room for the necessary set, haha! In Flourish, we designed a room in my apartment as a backstage/dressing room area and the bedroom for the young, non-binary couple is my actual bedroom. I told Dusty, the designer, I had to clean my room and he yelled at me, "Don't touch anything!" We had a two-day shoot, so our "company move" on Day 1 was to move from one room in the apartment to the next. We also shot in a club called, Alphaville, in Bushwick, who was extremely generous and supportive of us.
Festival Preparation & Strategy?
HMÁ: My producer, Vanessa Haroutunian, was really the backbone of our festival strategy, well, the whole project, really! Vanessa did extensive research in order to focus our submissions. My first film had a great festival run, so I reached out to those programmers for recommendations. Even when I am not programmed at a festival, I am gracious and maintain positive relationships. You would be surprised how many opportunities end up coming back around. Our international premiere will be at a festival we didn't submit to but are being guest curated by a smaller festival that rejected us, and I actually received another request from a festival today that was initially unable to program one of my films. So don't give up! 
I think of Outfest (Los Angeles) and Newfest (NYC) as FemmePower's "home" festivals or foundational supporters. Their programmers and staff have continuously encouraged me, and many of them also work at Sundance, Tribeca, etc, so the LGBTQIA+ circuit has helped to create connections to these top tier festivals. I also want to give a shout out to Contrast Film Fest in Austin. I've seen some of my favourite underground work there. HollyShorts and Big Apple were huge wins this year. I believe it is crucial that allies also support our work. I also think it is extremely important that festivals, especially major festivals, offer waivers and discounts for under-represented artists. Festival fees are one of the many obstacles that end up gate-keeping more diverse work from being programmed or even made. Making a movie, short films included, can be extremely expensive – adding the festival fees can make it truly impossible.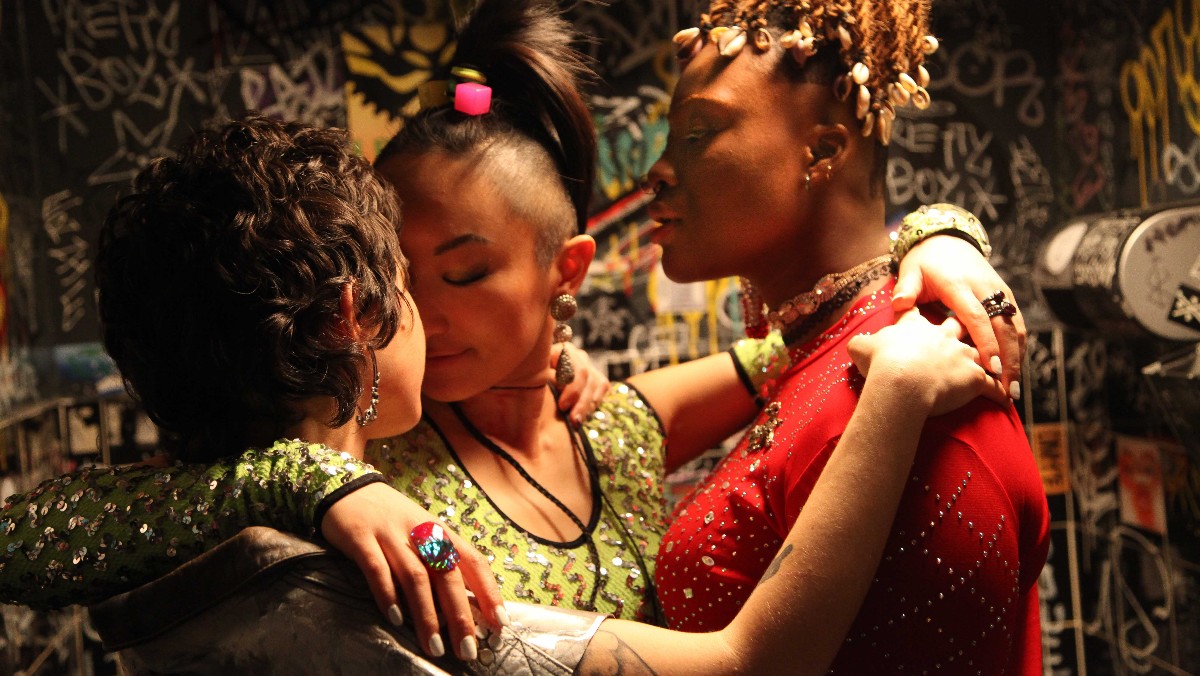 ---
The Release?
HMÁ: Flourish premiered at Outfest Fusion People of Color Film Festival in March and continues to play the festival circuit. It can be hard to find a final home/distribution, for short films especially, but now there are so many more platforms, run by festivals like Outfest and Hollyshorts, so you can access programming year-round. I also created my own platform, FemmePower TV, at the beginning of the pandemic because I see such incredible work when touring festivals – I wanted to bring this work to queer audiences and allies.
Advice from the Filmmaker?
HMÁ: My main advice is to go for it! Don't wait for approval or permission. Perfection is patriarchy! Dream big, but also develop small projects that are achievable, so you can practice making work. There is no better way to learn than by doing. We can make movies on our phones now. Make something short, silly, fun, post it on social media. Use what you have in your apartment, your communities. We have SO much in each other. We have to keep letting go of scarcity. Especially for under-represented artists, we can feel like our work isn't good enough, that we're less-than, and fall into imposter syndrome. But our ingenuity, authenticity, and tenacity are incomparable. Skills can be honed-do that! Learn structure and storytelling/filmmaking "rules," then break them! But your unique story, your authenticity can NOT be fabricated and we need your voice in the world.
Underrepresented stories have received new levels of attention and there has been an unprecedented clamour for trans, non-binary, and queer characters. However, Hollywood's curiosity does not guarantee that our stories will be told with respect, accuracy, or care. It is imperative that we control our own narratives, and gain access to the resources and platforms necessary to share our stories. If you are someone with access to resources or platforms-look out for other folks and share these resources! Underrepresented artists should have opportunities to produce nuanced narratives that centre on more than our identities – comedy, romance, fantasy, sci-fi. I believe in abundance – that there is not only room for, but an urgent need for a multiplicity of LGBTQIA+ stories that represent an array of intersectional identities and narratives.
So, make some movies/videos! You can send them to me for FemmePower TV! And/or curate your own program of short films! We are culture creators – that is one of the many powers we have. Go for it! I believe in you.
---
Tell us what you think of the Case Study for Flourish What do you think of it? Let's have your comments below and/or on Facebook or Instagram! Or join me on Twitter.
Follow Heather María Ács on Social Media
Website
IMDb
Facebook
Twitter
Instagram
Vimeo