A Case Study
Narrative | Dramatic Features
Film Name: FREEZE
Genre: Dark Surrealistic Comedy
Date: January 2020
Director: Maya Albanese
Producer: Valerie Steinberg, Brock Williams, Maya Albanese
Writer: Maya Albanese
Cinematographer: Laura Merians
Production Company: Wildcard Productions
Budget: N/A
Financing: N/A
Shooting Format: N/A
Screening Format: N/A
World Premiere: Diversity in Cannes Showcase at 73rd Cannes Film Festival (World Premiere), and SeriesFest 2020 (NA Premiere)
Awards: 20 +
Website: https://mayaalbanese.com/freeze
indieactivity: What is your film about?
Maya Albanese (MA): FREEZE is about a thirty-something woman who thinks she can have it all, the big career, the perfect family, the dream house until her fairy-tale life totally crashes and burns on her 35th birthday, and she's left with a debilitating case of baby fever that leads her into an unsettling fertility clinic to freeze her eggs.
The Official Trailer for FREEZE written ans directed by Maya Albanese
---
When I wrote FREEZE, I was basically just pouring my heart onto the page. It's very true to my own life experiences as a thirty-something woman navigating a world run by men as I try to juggle ambitious career goals and my desire to have a family. It's the most honest film I've ever made, and I hope it brings solidarity, catharsis and entertainment to others out there who are struggling to juggle big life decisions in their thirties and dealing with fertility issues of all kinds.
Tell us about the festival run, marketing and sales?
Maya Albanese (MA): FREEZE is a proof of concept for a series, so we've prioritized episodic festivals as a way to reach a more TV-oriented audience. We premiered at SeriesFest 2020 and we actually ended up winning Best Digital Pilot and Best Actress, which was really exciting. We went on to win Best Comedy at Brooklyn Women's Film Festival ImagineThis. FREEZE has been accepted to about 30 film festivals now, and we've done our best to participate in all screening opportunities despite the ongoing pandemic and mostly virtual formats.
Give the full Official Synopsis for your film?
Maya Albanese (MA): When Joy's fairytale romance crashes and burns on the eve of her 35th birthday, the TICK-TOCK of her biological clock pushes her into a series of romantic misadventures and provokes wild hallucinations. Pressures stack up against her, and just about everybody seems to have an opinion about what she should do with her dwindling egg count. Joy ends up at Dream Life Lab & Clinic where an angry mob battle to get inside to see an eccentric egg freezing doctor who offers women peace of mind in exchange for their life savings.
---
Development & Financing?
MA: This was a short film funded and produced entirely with a large number of private donations.
Production?
MA: We shot FREEZE in a jam-packed 5-day schedule! We had 25 VFX shots, and so many locations and all name actors coming in. It was a huge endeavour for a short film, and I'm so proud of our team for what we accomplished together. I have to thank my incredible cinematographer, Laura Merians, my AD, Blake Brewer, and my producers, Brock Williams and Valerie Steinberg, for working overdrive to get this film to the big screen.
And in post-production, we worked with an incredible sound designer, Adam Primack, who had a foley stage to create some of our most unique sounds from scratch, and Cosmo Street Editorial who edited the film for months with us, and comedy editor extraordinaire, Sari Tracht helped us polish, as well the chilling score composed by the absolutely brilliant Ariel Marx and the colour by Apache. Each step of the process was very involved, and on a short film, you have to really understand what a dedication your team members are showing to THE ART to be a part of it through the end.
The Release?
MA: We're really excited to announce our distribution partnership with Oscilloscope in North America and Premium Films in the rest of the world. FREEZE isn't available publicly online yet, but we hope it will be on some network soon. For now, please enjoy at HollyShorts and other film festivals it's going to be playing at!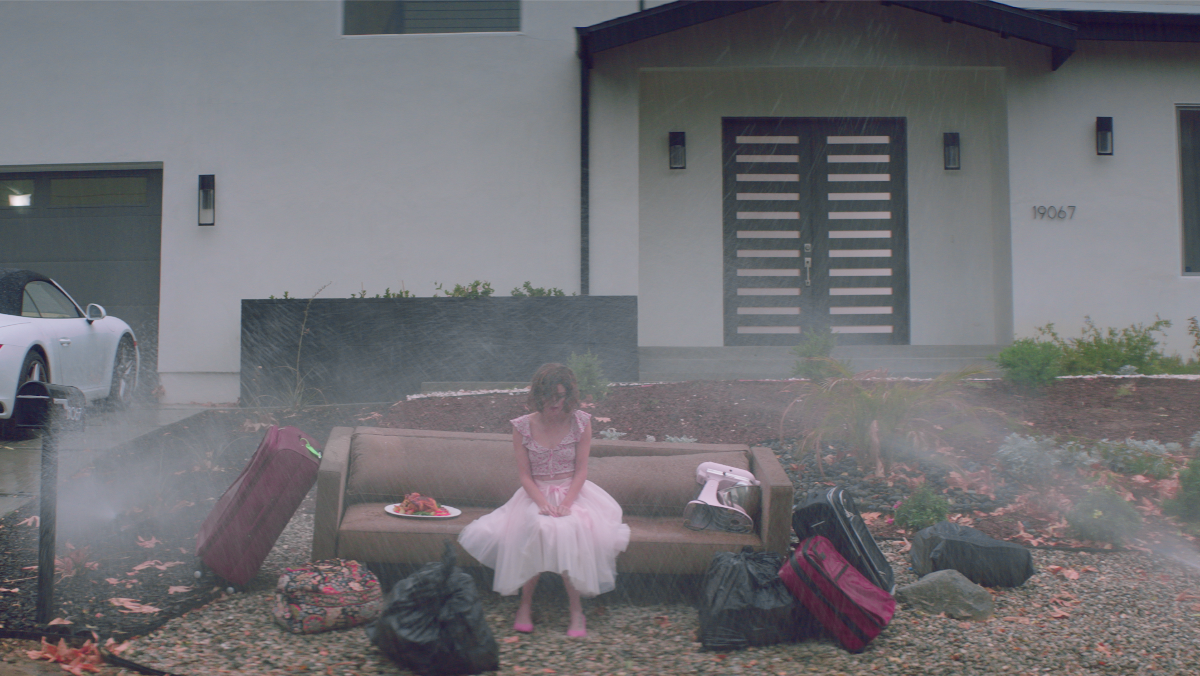 ---
Advice from the Filmmaker?
MA: If you want to start somewhere as a filmmaker, start with what's nearest and dearest to your own experience as a human. It doesn't necessarily have to be autobiographical, but it should be a passion point for you in some way. Chances are if you are being bent by some challenge or deep feeling in your life, there are many other humans out there who are being challenged by it too. And they will be your film's core audience.
---
Tell us what you think of the Case Study for FREEZE What do you think of it? Let's have your comments below and/or on Facebook or Instagram! Or join me on Twitter.
Follow Maya Albanese on Social Media
Website
IMDb
Facebook
Twitter
Instagram
Vimeo