Interviews
The making of Fucking Ghosts by Jason Cook

A Case Study
Narrative | Dramatic Features
Film Name: Fucking Ghosts
Genre: Horror Comedy
Date: March 2020
Director: Jason Cook
Producer: Kelly Parker, Jason Cook, and Ben Morrison
Writer: Jason Cook
Cinematographer: Joe Picard
Editor: Jason Cook
Composer: Keith Ruggiero
Production Company: Superfunny Films & Mary Ellen Moffat
Budget: approx. $7000
Financing: private funding
Shooting Format: 1:85:1
Screening Format: 1080 and 4K
World Premiere: Sydney Underground Film Festival
Awards: 4+
Jumbo Bonus Jury Award – BoneBat Film Festival,
Best Micro Short and Best Comedy – Thing in the Basement,
Best Horror Comedy Micro Short – Austin Comedy Film Festival,
Best Horror Comedy Micro Short film – Houston Comedy Film Festival (finalist).
Best Horror Comedy Short category – Nightmares Film Festival.
Website: superfunny.show, maryellenmoffat.com, cookfilm.net
---
indieactivity: What is your film about?
Jason Cook (JC): Fucking Ghosts is a parody film trailer for a fake horror film about a family that buys a new house that's haunted by horny ghosts. What if a family bought a new house that was haunted by ghosts… that had sex all over the place? What if the ghosts were just people under sheets? What if there was a Scottish priest involved? I set out to find some answers. As a commercial director, I constantly need to tailor my creative vision for the sake of a client. Perhaps this film was a subconscious response to that. I needed to see if I could pull something off that was completely outrageous but also cinematic and beautifully shot. That I could attract serious comedic and production talent to this insanity is a testament to my passion for the project and my belief that we had something special.
(Also I hold incredible blackmail over everyone involved.) As a first time long form writer/director, my goal through every step was to put it all on the line. To trust my instincts and to do something that I hadn't seen before. I imagined a haunted house ghost story that went completely off the rails and into the absurd. Every detail is intentional. The cinematic language, the editorial "trailer" pacing and graphics, to the low-fi costume design and performances. I set out to make a piece that looked and felt like a feature film trailer. This project was about taking an idea that couldn't possibly work and proving it could.
Tell us about the festival run, marketing and sales?
Jason Cook (JC): We are still early days in our festival run, but so far it's been a fantastic response. Considering we wrapped post on this literally weeks before the pandemic hit, we didn't have much hope for a real audience for this thing we had just put so much work into. We quite literally all looked at each other and said "now what?" With on ground festivals up in the air, we eventually started to submit to virtual fests, just to see what the taste was for our film.  We first premiered in Australia at SUFF, and then had a ton of momentum screening at festivals all over the US. When Screamfest and Nightmares Film Fest selected Ghosts, we knew we were starting to make some noise.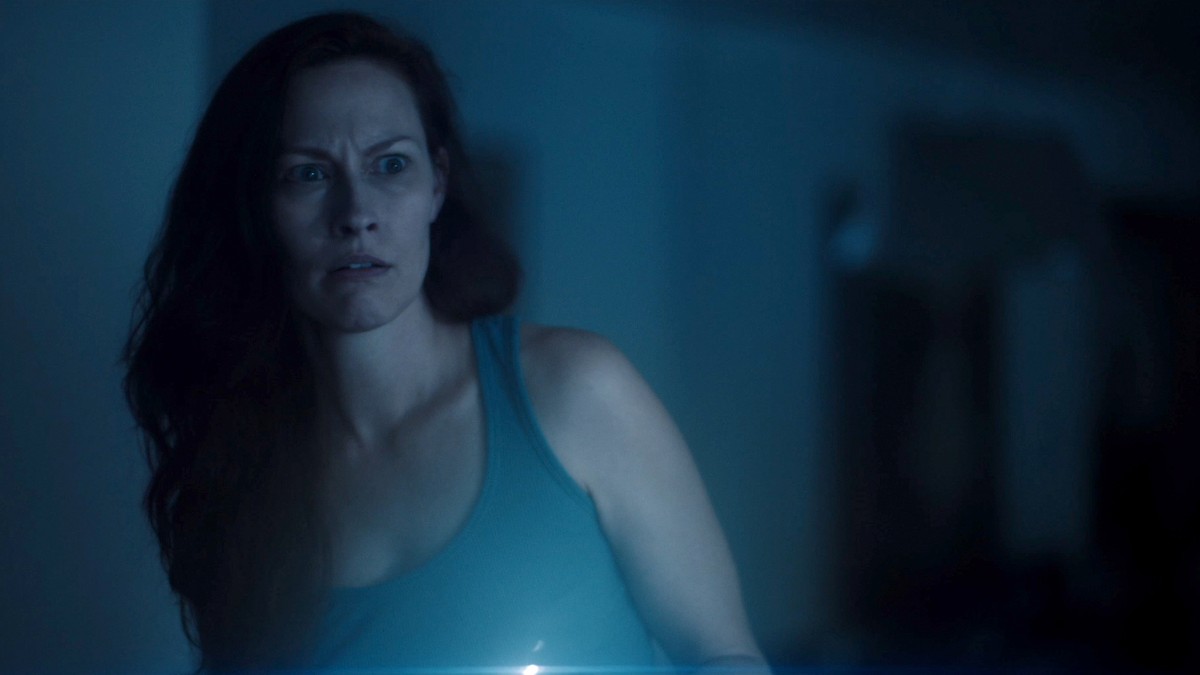 ---
From there Hollyshorts took us in and that made us realize that our film was breaking out of the genre box, and into the mainstream. We always thought this piece would do really well in comedy festivals. What we didn't anticipate was how well it would do in horror festivals in the horror comedy category. At NFF we were nominated for best Horror Comedy Short and we won a Grand Jury award at BoneBat Film Festival, along with awards at a few others as well. With 15 festivals under our belt already, the Ghosts still have a lot of road ahead for our festival journey.
Give the full Official Synopsis for your film?
Jason Cook (JC): In this parody horror trailer we are introduced to the Simpson family. They are a happy couple with a 1 year old daughter, and they've just bought a new house! On the first night Kristi is awoken and goes to get some water from the kitchen. It isn't long before she is startled by a moaning sound. Bravely stepping out to investigate the noise, she discovers a scene that will forever change their lives. The house is haunted by Fucking Ghosts. After a few more brushes with the sheeted heathens, and at their wit's end, they call upon the services of Scottish priest, Father McManus to rid their home of the abominations. Learning that the home itself was the site of a brothel that burned down during an orgy in 1931, the priest has a solution to their problem but they're not gonna like it. Well, maybe a little. 
Development & Financing?
Jason Cook (JC): I have written a few short film screenplays but this is the first that I actually followed through to completion (no pun intended.) A lot of weird ideas just pop into my head all the time. "Wouldn't it be funny if..?" kind of stuff. I record them in a notes app, and usually they don't get past that point. This idea however was something that wouldn't go away. It was this itch I couldn't stop scratching and I really needed to figure it out. I wanted to tell a haunted house ghost story that was completely absurd. Like the exact opposite of the dramatic film "A Ghost Story" by David Lowery. It all started out as a short film about a family that was being terrorized by hyper sexual ghosts in their home, seen mostly through night vision security cameras. A friend of mine suggested taking that idea but making a parody trailer and that really blew the idea wide open.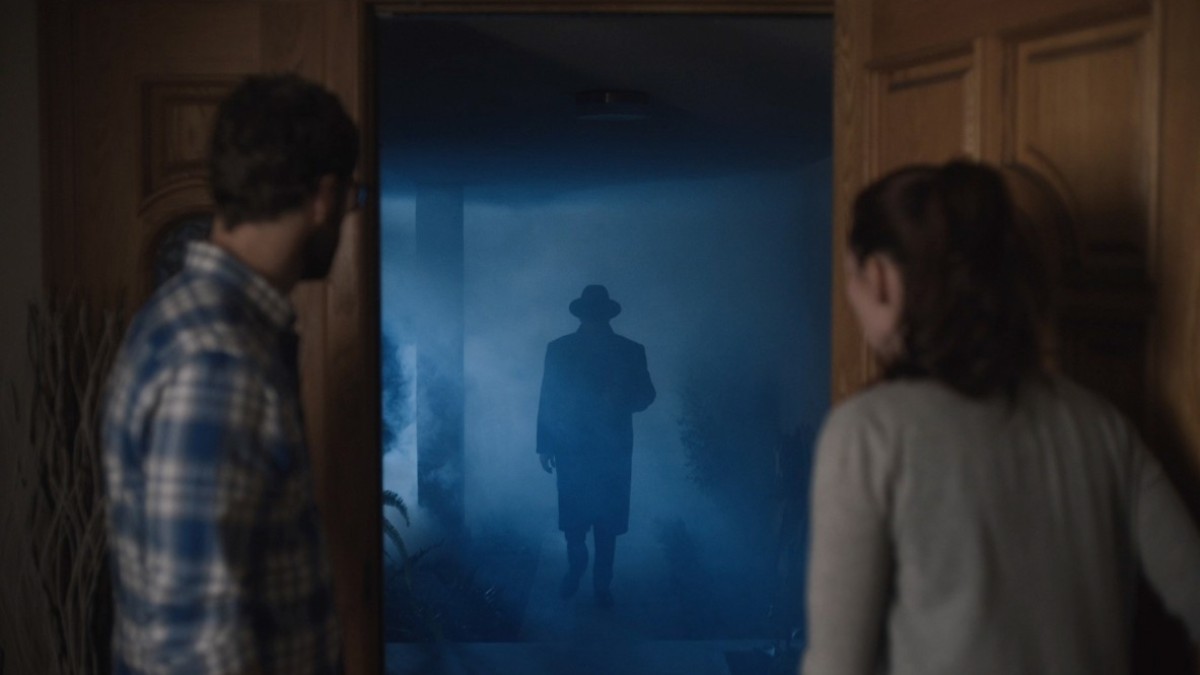 ---
Adding a voice-over gave the story structure and then it was all about adapting many of the same ideas from the film as beats in a feature film trailer. Everything came together very quickly, and I think I had a script in a couple weeks. I was ready to share and try to convince people to get involved in my hilarious ghost porn film. As for financing I scraped together a small budget, and pulled a TON of favors. I am a commercial director as well, and had just booked our amazing DP Joe Picard on a project, and asked him to help me out. He pulled together an amazing crew that were all down for the cause. On the page, the script was very funny and that helped people get on board. I had a lot of hilarious conversations pitching the concept to everyone.
Production?
JC:  As I mentioned, the script came together quite quickly. As a commercial director I have always had fun working with Colin Ferguson on ad campaigns in the past so he was my first call. In October of last year I took a gamble and sent him the script and thankfully he loved it! His commitment to the project really became the catalyst for everything to come together. It quite frankly legitimized the whole thing. With Colin on board, I reached out to Kelly Parker to help me produce it. I met her through Ben Morrison who plays the HILARIOUS Father McManus in the film and is also the creator of SUPERFUNNY, a multimedia comedy show, of which I am a partner. Kelly really understood what I was going for and gleefully jumped in.
From there it was pretty straightforward. I pulled a bunch of references and worked with Joe to establish the look of the film. During that time I was also building out a storyboard of the whole film using Wonder Unit's "Storyboarder" software. That process was so freeing because I could fully design the shots in a realistic way using different camera lensing options. This helped me visualize the film. 
Based on Colin's schedule, we had a shoot date of January 24/25. We were able to pull a ton of favors for different crews and departments. The location was my friend's home which was just perfect. Maggie Ramos did all of the ghosts costumes and cast wardrobe. Sara Cook handled set dressing. We brought on AD Mitch Yapko who really was an amazing partner in the production and also helped us secure a last minute casting change for Kristi. I am so happy he did because Natalie Lynch just killed it.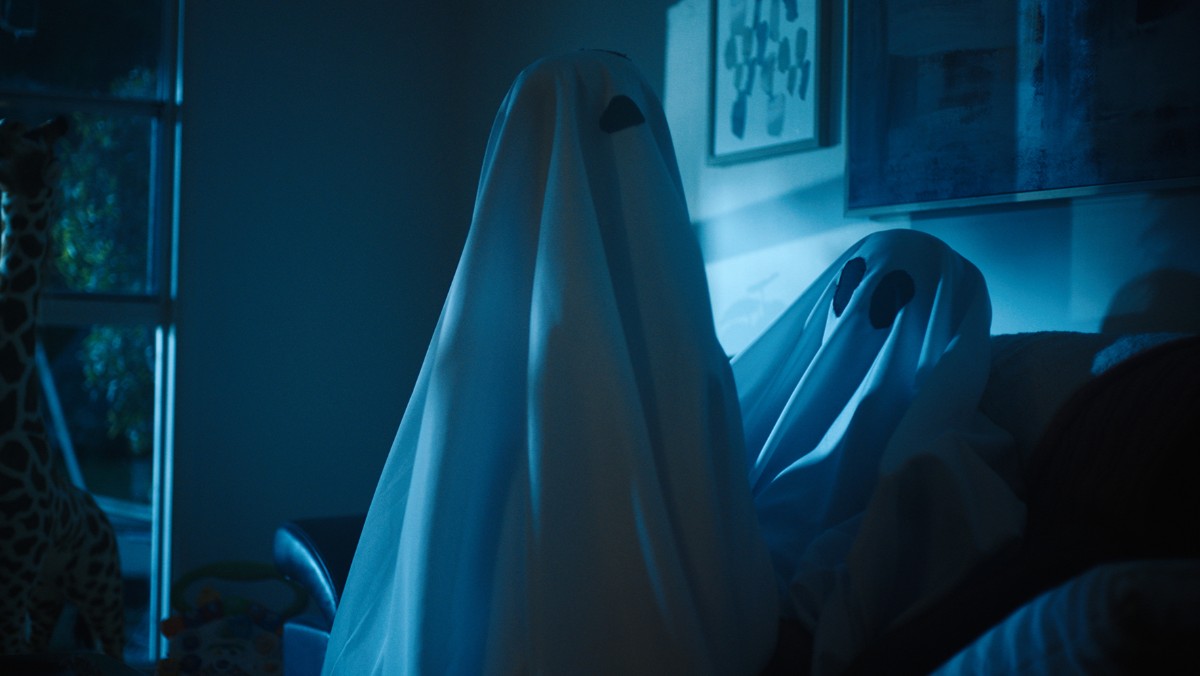 ---
For having a day to prep, she went all in and was a dream come true. We shot for 2 days and honestly it was the most hilarious production any of us had ever been involved in. It was completely outrageous. I had three incredibly talented improv actors and a creative space for us all to play to find the funniest bits we could. In spite of what we were shooting, we had a strong game plan and under Mitch's command made our days with no problem. It was all totally absurd and I will never forget it.
I think post production took a couple of months to finish. I started editing right away, trying to figure out how to shape the trailer. I knew it had to look and feel like the real thing and that involved pacing and graphics, especially at the top. I wanted this piece to fool people into thinking there was a feature film on the way. I developed a design motif for the titles, and created the production company logos as well. Then I reached out to my friend and composer Keith Ruggiero (SOUNDS RED) about scoring the piece for me. He gave me an unused full track he had already produced with stems that was just what I needed. It set the tone perfectly, and combined with some stock sound design elements, everything really started to come together. After some helpful advice from some friends, (thank you Jesse and Ben) the edit was finished and ready for color and mix. I was able to pull one last favor through Billy Hobson at Harbor for the grade and Scot Lang at Braincloud for the mix. So many favors! I just want to take a moment to thank everyone involved in the project for their dedication and effort. This just wouldn't have been possible without them.
Festival Preparation & Strategy?
JC: We wrapped this all up in March and then the pandemic hit. Everything was suddenly up in the air. There was so much ambiguity over festivals and if they would even happen at all. Online fests seemed like a logical choice but there were a lot of differing opinions on that happening. Natalie Lynch really helped kick things off by getting us into a very last minute entry into Twister Alley Festival in OK. We got accepted and because of that caught the eye of Sydney Underground Film Festival which we entered and got into. From there, Kelly Parker and I mapped out all of the horror and comedy fests we thought were worth submitting to. What is interesting is that we got into more horror fests than straight comedy fests so far. I guess there really is a market for fake ghost humping trailers out there. Things started to get more serious when we got into Screamfest, Nightmares Film Festival and just recently Hollyshorts.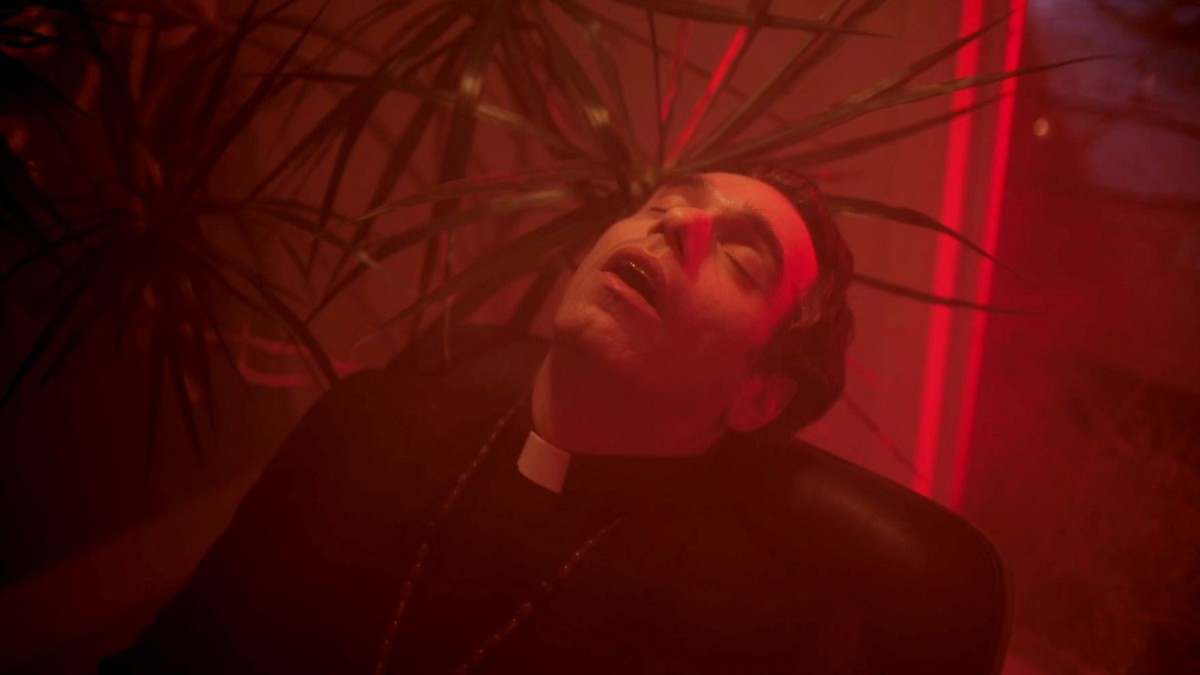 ---
The Release?
JC: The film is still in festival land for the foreseeable future. We would love to find a home online in the streaming world once we wrap our run. It seems like there is no stopping the ghosts yet! Hopefully we ride this momentum into the bigger festivals in the new year.
Advice from the Filmmaker?
JC: I hate to sound super trite but my biggest advice is to believe in yourself and not be afraid to ask for help. Just ask. I hit up Colin thinking there's no way he'll do this. But he did. The power of a good idea will get you there, and your belief in your creative vision is so powerful when getting others onboard. I basically convinced a bunch of talented people to take a huge risk on a very funny idea on the page. The reality is it was a giant question mark that it would work in practice. This was my first writer/director effort, and I went through all the phases of impostor syndrome, and elation and not knowing if it was working anymore in every aspect of the production. I'm really proud of this because it was something I just HAD TO do and it came out really great on the other side. Follow through. Believe in your vision. Take risks. Push the ideas until they break and then push past that point. Also this stuff is so fun. Remember to enjoy the ride.
---
Tell us what you think of the Case Study for Fucking Ghosts What do you think of it? Let's have your comments below and/or on Facebook or Instagram! Or join me on Twitter.
Follow Jason Cook on Social Media
Website
IMDb
Twitter
Instagram
Vimeo