A Case Study
Narrative | Dramatic Features
Film Name: Muse
Genre: Sci-fi
Date: February 2020
Director: Azhur Saleem
Producer: Tora Young
Writer: Azhur Saleem
Cinematographer: Bart Sienkiewicz
Editor: Josh Mallalieu
Composer: Segun Akinola
Sound Designer: Anna Bertmark
Production Designer: Oian Arteta
Casting Director: Annie Rowe
VFX: The Flying Colour Company
Production Company: This was made independently.
Budget: approx. £50,000
Financing: Privately financed: savings, jobs, family money
Shooting Format: Sony Venice
Screening Format: DCP (theatrical venues), ProRes to H264 (online)
World Premiere: Exit6 Film Festival in September 2020
Awards: Nomination – Best Sci-Fi Bolton Film Festival + Selection Top 10 short films by the BSC.
Website: https://www.azhursaleem.com/work/muse
---
indieactivity: What is your film about?
Azhur Saleem (AS): Muse is about a painter who turns to his android for help when trying to sell his newest work, but events take a dark and disturbing turn when the android learns the truth about the inspirations for the paintings. We follow the revelations from the point of view of the android, Kay, as she learns that her owner not only makes her paint the work, but also uses murder as inspiration—then wipes her memory and takes all the credit.
I was inspired to write something that deals with the concept of creativity and technology and how we as humans fit into that equation in a rapidly changing world. I always believed creativity and the arts would be safe from some form of automation, but that boundary—one that I believe is what makes us human—is slowly being broached by AI. But even the simplest filter on Instagram is a form of easy technology that in a lot of people's eyes makes your picture 'better'. The short reveals the notion that a machine has created a work of art that's celebrated. How would the human owner feel when it's better than you could ever be? In our case, he covers things up and takes all the credit. I wanted to have that idea bubbling under the narrative as our main character slowly realises the truth, allowing the audience to figure this out at the same time she does.
From a structural point of view, I was also intrigued by the idea of one's perception of life being edited; essentially what happens to our character Kay when her memory is wiped. If the edit job was done well, you could go through life not knowing when someone had been tampering with your memory. But what if the edit job wasn't so neat? How would those memories start flooding back to your consciousness. The film itself becomes the perfect medium to create this experiential idea where the edit serves both as a narrative and conceptual tool.
The Official Trailer of MUSE, written and directed by Azhur Saleem
---
Tell us about the festival run, marketing and sales?
Azhur Saleem (AS): It's been an interesting year, festival-wise. We were set to have our World Premiere at the SCI-FI London Film Festival in May, but due to COVID they were forced to postpone and switch to an online format which will now take place in December. It's great though to have them close out a wonderful festival year for us.
Despite the massive upheavals to festivals, every single one we've been selected for have done a spectacular job in recreating a sense of community and festival atmosphere despite being online; with seminars, talks, zoom parties and online Q&As. We were nominated as BEST SCI-FI at the Bolton International Film Festival (which is also BAFTA Qualifying) and selected as one of the Top 10 films by the British Society of Cinematographers, which is a huge achievement and recognition for DP Bart Sienkiewicz!
Festivals Official Selection:
Exit6 Film Festival 2020
HollyShorts Film Festival 2020
Norwich Film Festival 2020
Mayhem Film Festival 2020
Flickers' Vortex Sci-Fi, Fantasy & Horror Film Festival 2020
San-Francisco Another Hole In The Head Festival 2020
Ramaskrik Film Festival 2020
Sharjah Arts Film Festival 2020
Twister Alley Film Festival 2021
FilmQuest 2021
Give the full Official Synopsis for your film?
Azhur Saleem (AS): An artist, Aderman welcomes in an art gallery owner to view his latest offerings, his in-house android, Kay at his beck and call. When the meeting turns sour and the guest tries to leave, Aderman calls on Kay and… So begins the next day. When police officers come knocking regarding an altercation outside, it transpires that Aderman has amended Kay's CPU to respond to un-programmed demands – including murder to which she complies and the police officers are disposed of. As Kay becomes self-aware she turns on her owner and creates a painting in his honour – a painting of pain. The muse becomes the puppet-master.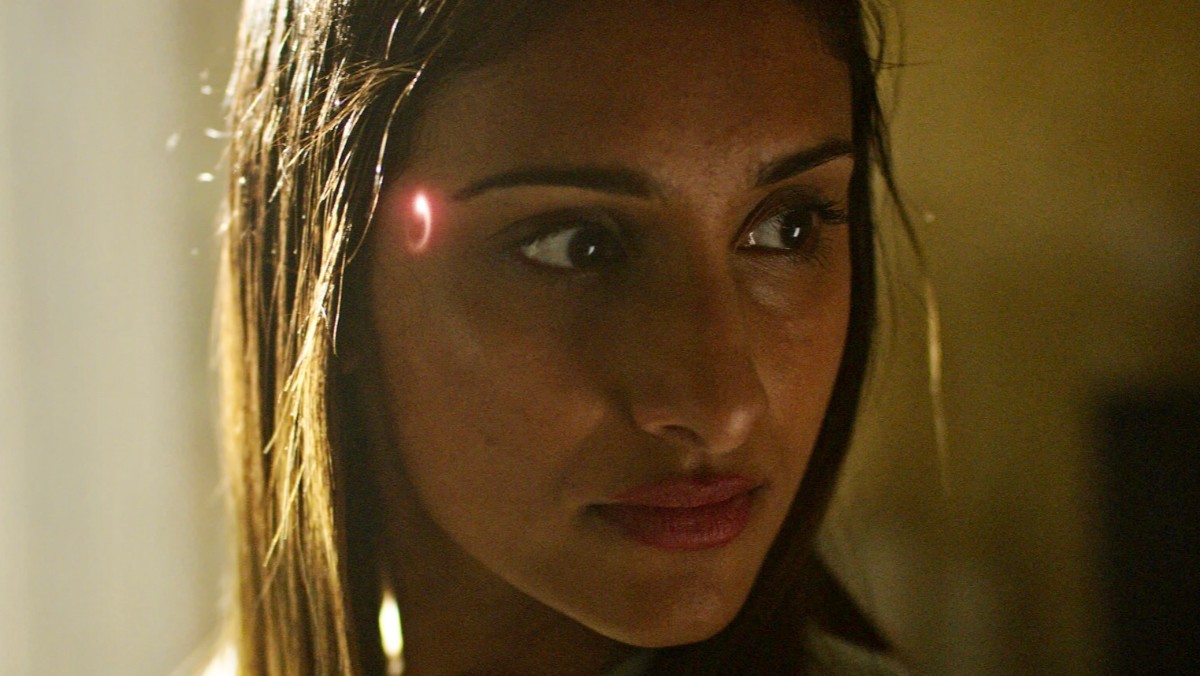 ---
Development & Financing?
Azhur Saleem (AS): I wrote a version of this script back in 2012 when I was first trying to get it made. It was much more elaborate then (multiple locations, more characters and prohibitively more VFX!) and the story was somewhat different too, though was still dealing with themes of creativity to an extent. It was more specifically about the hacking of an android to commit murder, that would then inspire the artist to make his grotesque works of art. The concept of editing memories was always there from the beginning along with the experiential effect of seeing it from the android's point of view but the revelation centered around the android realizing he was a murderer.
The script sat unmade for a long while, but the themes of creativity and technology developed into a feature script that I almost got made in 2017. The story was about a writer this time who's struggling to complete his second novel, who hacks his android to write for him. But with the novel being a crime story with grisly murders, the androids starts to murder strangers to create its own 'inspiration' for the writing. We were very close to production, with actors attached and we had even begun location scouting. But the financing fell through and the project fell apart.
The concept stuck around and it wasn't until I came into some money that I decided to put it towards a short. I looked back at the original Muse short and with some of the ideas from the feature, I was able to crystallize the concept to what is the short film you see today. I also made it in mind to form a sort of proof of concept for the feature, but I was adamant that it was going to be more than just a trailer, that it should have its own beginning, middle and end. The characters are new, but the themes, tone and concept would work as the proof of concept.
Once I'd decided on going back to the short, I was having a conversation with a mentor of mine, the amazing director Colm McCarthy (Girl With All the Gifts, Peaky Blinders, Black Mirror) who asked if the script was set in a single location and under 10 minutes. I said yes and promptly went home and rewrote the original and got to where it is now!
I mention this, because I think as filmmakers we can become so wedded to an idea, especially if we've been toying with it for a while where we can be the film's worst enemy sometimes. You start to get in the way of what the film wants to be and it takes a simple conversation where you're suddenly forced to look at it with fresh eyes, get out the way and let the story become what it needs to be!
Once I rewrote the script, it was ready to go!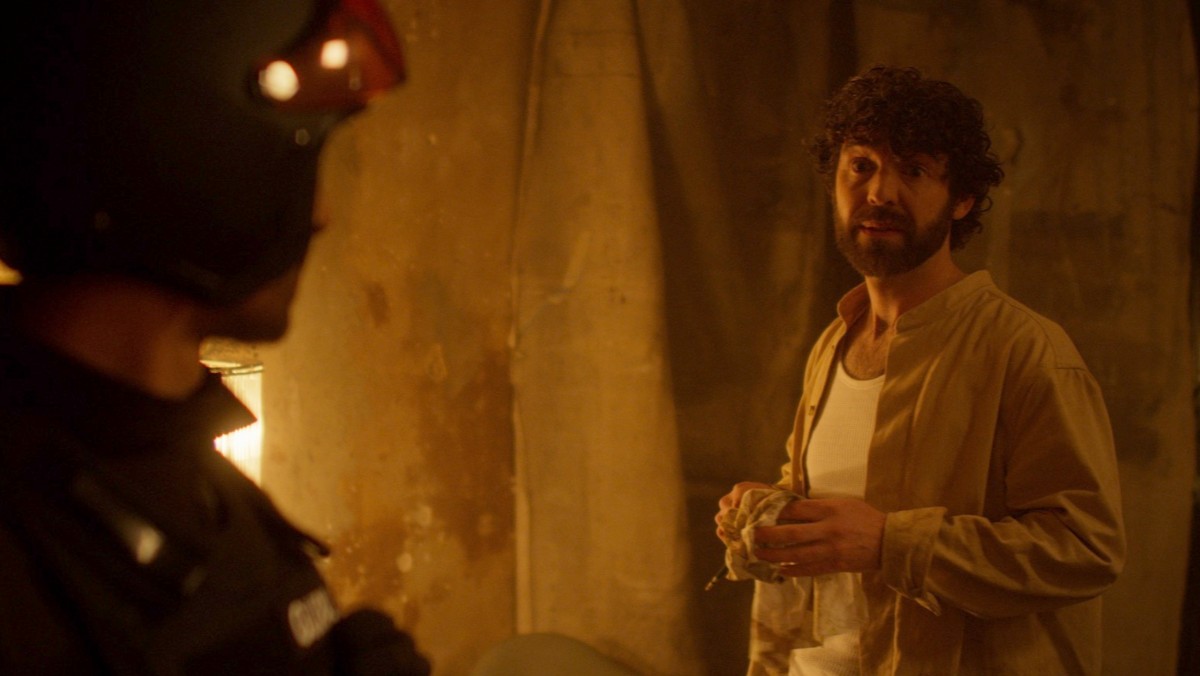 ---
Production?
AS: The first stage was finding a producer. I met Tora via a mutual film contact and we hit it off really well. She totally got the tone and style I was going for and she'd had experience as a VFX producer which would be fantastically useful for me as I'd only had minimum experience doing that.
My next key collaborator to get onboard was DP Bart Sienkiewicz. We'd known each other for several years and had been trying to find a project to work on together, but the timings never worked out. The DP (and editor) are both such important relationships and Bart was always able to get what was exactly in my head. One of the first things I put together was a mood board that would describe and visualise the three distinct stages of the short, along with how I wanted the world to look.
From the outset, I didn't want this to look like it was a science-fiction film, at least not straight away. I love all types of sci-fi but I've always been drawn to the stories that are just around the corner, with Children Of Men and Black Mirror being huge influences on me. I really wanted the feeling that you could be anywhere when you start watching the film and when we're introduced to Kay, you feel there's something 'off' about her, but it's not till a few moments later that it's revealed she's an android and you realise we're in the future. I wanted Aderman's home to feel run down with a sense of faded glory. I love texture when it comes to my visuals and you can see that in the location we chose. I wanted to juxtapose that with the clean, slick quality of the visual effects that visually represented automation and technology.
We did a number of location scouts across London and once we had found the one we wanted to use, it was easy to the build up all the other elements around that. Our Production Designer Oian Arteta did a fantastic job of creating a wonderful lived-in quality to the place, with variety and detail.
We worked with the amazing Casting Director Annie Rowe to help us find out actors. As a filmmaker of colour, it was imperative to me that this short be as diverse as possible; I wanted the actors to represent the London that I know so well and I believe we achieved that with our brilliant and fantastically talented cast.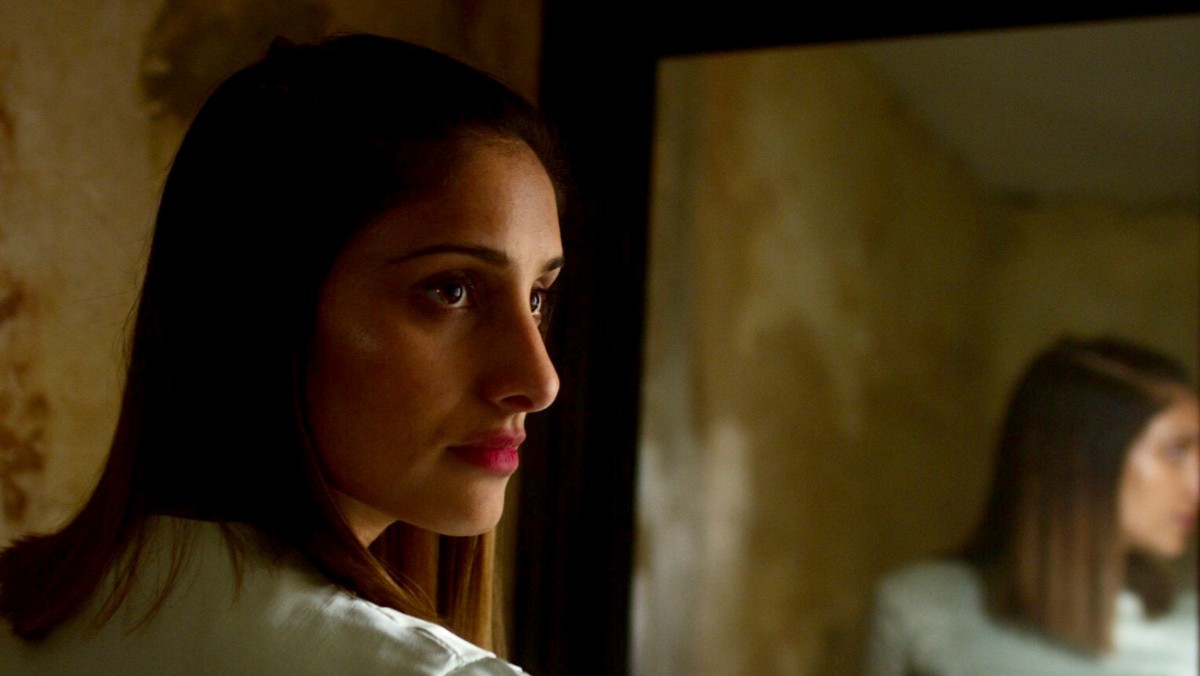 ---
As we weren't working to any deadline, we had a fairly relaxed amount of prep over five months (as crew had other jobs they were on too) and we scheduled the shoot for three days in East London in May 2019. Shooting in one location has the fantastic benefit of also being your base for the entirety as well and means as filmmakers you can come in and focus on the creative work at hand—something which is so important in the world of short filmmaking where resources and time are always stretched.
With the story having three distinct times, lighting was key in creating the right look. We started with all the night scenes so we were able to use our pre-light day to cover all the windows with gels. Bart and I didn't want to fully black out the windows, so the gels gave us a sense of night but we were still able to see some detail through them. I was so pleased with the fantastic crew that we had from all departments and it really is a testament to them all on how successful the film looks and sounds.
Sound design was another key part of this film. I find sound hugely important and it really informs me in the writing process right through to post-production. From the outset, I discussed with sound designer Anna Bertmark how I wanted Kay's sound to have a different quality to what we have heard before; that there we should emphasize the 'biology' in the work bio-tech. The sound of the smoke monster from Lost was a big influence. We found our way in to the sound design after I was listening to a piece of classical piano music, and I could hear the inner workings of the instrument, the pedals pushed in between the notes, the hammers and the strings moving because I was listening to them on headphones. That sense of an inner life became the framework of how to approach Kay's sound where we would have these clicks and noises that would sometimes sync with her movements and other times would just be heard even if she wasn't moving. This helped to give a strange sense of life to what is an artificial being.
Editing took place in London with editor Josh Mallalieu, who I'd met whilst working as 2nd Unit Director on Baghdad Central a TV drama for Channel 4/Hulu the year before. Josh and I work really well together and editing is one of my favourite stages in the whole process, as you begin to reshape the story with the footage that you've got. We played around a lot with the important reveal at the end of the film and how we were going to visually illustrate that; a lot of back and forth and experimenting. Josh was cutting another TV series during the week and we worked weekends, which gave us space to look back at our work with fresh eyes. A lot of times with short films, your schedule is broken up like that with other jobs and I think that can be a real benefit, as long as you're not rushing towards a deadline. Because of this we edited of 3/4 weeks, working weekends and having that space in between helped us to organically find the best way to tell the story.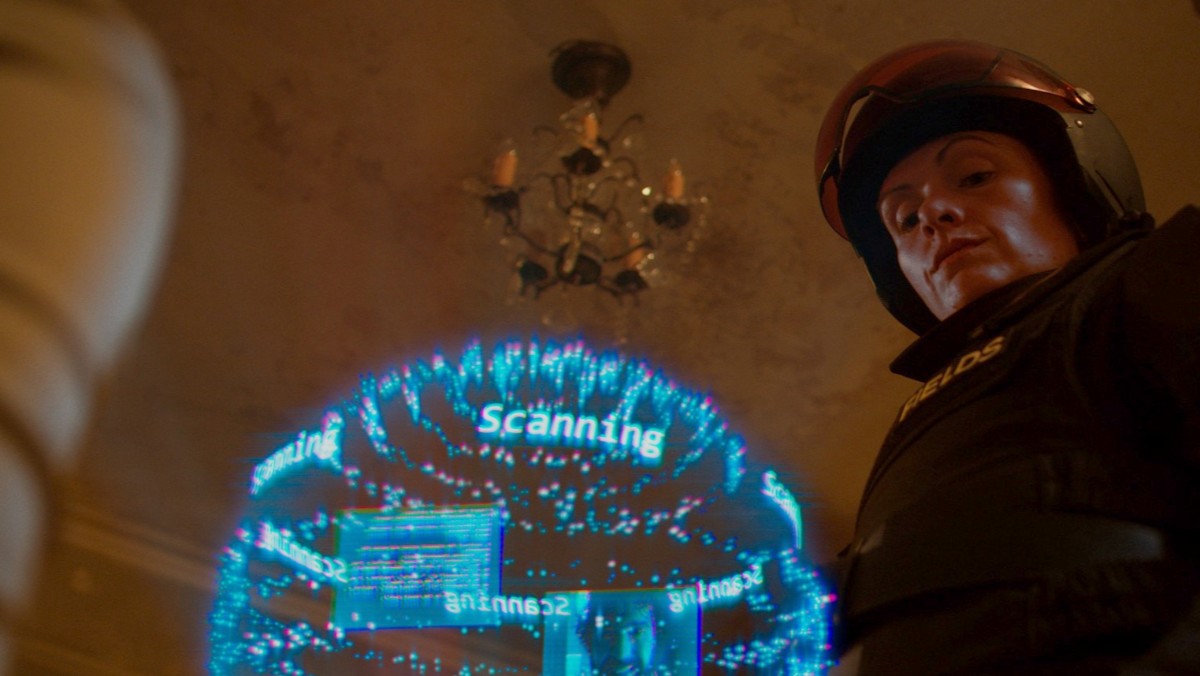 ---
The VFX was handled by The Flying Colour Company and VFX Supervisor Dominic Thomson. He's someone else I met whilst on Baghdad Central where he was doing the VFX for that show. He was amazingly gracious with his time and team and we were able to achieve what we wanted on the budget that we had. For any film, planning and prepping the number of VFX shots is vital, but especially so on a short film. I storyboarded everything and along with mood boards, the team at Flying Colour had a clear ballpark to play in and bring their creative input to the shots. As we had so few shots, we had decided early on that we would forgo tracking markers on the actor playing Kay. We were shooting in 4K and that would give us enough resolution to track the shots and not have to paint out any markers. (Of course the more shots you have it becomes quicker to use tracking markers). The process was fairly straightforward. Again, with short films, you have to find slots to have your work done. Flying Colour were in between two massive shows during the summer so we had the time to get in and complete what we needed for the short. Ultimately it was a simple process and that's down to the great team at Flying Colour.
Composer Segun Akinola came on quite early in the process. He was attached to the feature script that I wrote a few years ago and was very excited that we'd be getting to finally work together on this short. We discussed how the short should have this building tension throughout, a kind of menace which you don't know how to take. It perfectly captures the confused state Kay finds herself in as parts of her memory is coming back to her. Even with her revelation at the end, I didn't want it to feel celebratory, there's still a lot of confusion and questions when she finds out what her owner has been doing and Segun managed to perfectly encapsulate that tension with his music.
Festival Preparation & Strategy?
AS: A good friend of mine recommended I get in touch with Katie McCullough at Festival Formula, which is a company that works out your festival strategy for you. They are absolutely wonderful and can really help you navigate the best route for your film. It can be tempting to apply to all the big name festivals, but when there is a film festival every single day of the year somewhere around the world, it can be equally daunting deciding on the best places to show your film at. The team have years and years of experience and knowledge and with them they worked out a plan for Muse. I would highly recommend them, wherever you are in the world!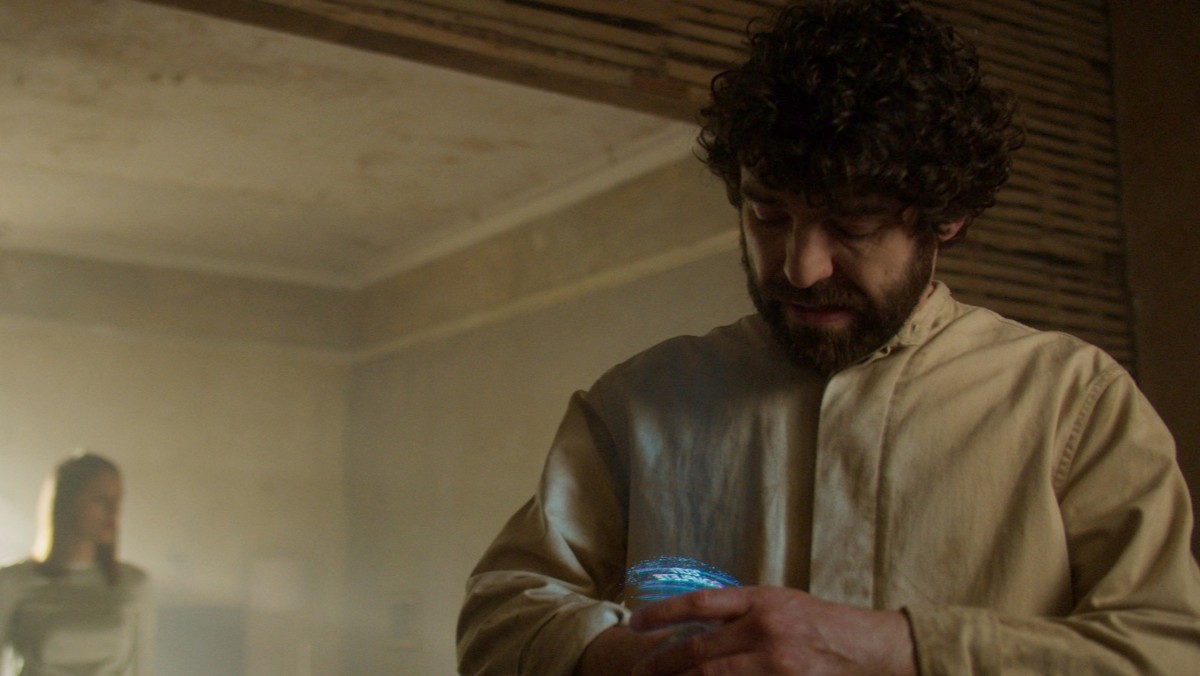 ---
I think it's really important to find and apply to the right festivals for the film and with Festival Formula, they looked at the film, the genre it is in and the level of cast and production values and decided on a mix of interesting, small genre festivals mixed with some bigger names. We were actually going to have our world premiere at SCI-FI London which would have take place in May 2020, but unfortunately they were postponed, but thankfully they have been able to still run the festival in an online space this December and it'll be great to close out the year with them! The strategy has worked well as we've played at a number of festivals worldwide, including several BAFTA and Oscar qualifying ones. And despite everything moving online this year, the benefit to that is that I feel more people have had a chance to view the film than otherwise would have.
The Release?
AS: After the festival screenings, MUSE will premiere online via DUST sometime around Q2 2021. I'm super excited about this as it's a fantastic brand and platform to be on!
Advice from the Filmmaker?
AS: When it comes to short filmmaking, I've found the more your plan and prepare the better the product. Time is so short and resources are stretched to their maximum that you have very little room for error. If you're prepared with a detailed shot list/storyboard/floor plan and a plan of attack of how you're going to direct your actors then you will find yourself more able to adapt when things invariably go wrong!
---
Tell us what you think of the Case Study for MUSE What do you think of it? Let's have your comments below and/or on Facebook or Instagram! Or join me on Twitter.
Follow Azhur Saleem on Social Media
Website
IMDb
Facebook
Twitter
Instagram
Vimeo