Interviews
The making of SMILING SKELETONS by Eryn Rea

A Case Study
Narrative | Dramatic Features
Film Name: Smiling Skeletons
Genre: good question
Date: We filmed in November 2018 but took our time in post-production, so we finally finished its summer of 2020
Director: Eryn Rea
Producer: Janelle Jones and Jeffrey Magnussen
Writer: We did not have or use a script! We started with a specific concept, characters and their relationships, and the rest was the magic of on-set collaboration
Cinematographer / Editor: Weetus Cren
Production Company: Magnussen Media Group LLC / Filmed in Seattle, WA over 2.5 days.
Budget: $3500
Financing: Independently funded
Shooting Format: Digital, ARRIRAW 2K
Screening Format: 1920 x 1080
World Premiere: Hollyshorts 2020
Awards: N/A
Website: https://www.magnussengroup.com
indieactivity: What is your film about?
Eryn Rea (ER): SMILING SKELETONS was born from what could have been a very simple concept. On its face it's about exes going through a divorce who mistakenly end up at their old house at the same time with their new love interests… then drama ensues. But as the Director, I already knew which Actors I wanted to work with; Angela DiMarco, David S. Hogan, Janelle Jones, and Lowell Deo. And when I looked at my cast of three White people and one Black man, I just couldn't ignore the reality of what might happen in the worst-case scenario of this set-up. It was important to tell THAT story because if I hadn't it would have been disingenuous.
---
With such a loaded subject, I wanted the storytelling to be collaborative. I didn't want to put words in anyone's mouth so I chose to film it unscripted and I'm so glad I did. Amazing moments and lines came out of that freedom for the Actors to live in the scene and genuinely react to the circumstances. I needed strong Actors that I could trust to do their homework and meet me on set ready to work and tell the story with me, not as puppets but as humans and equally creative Artists. The finished film is a testament to the deeply talented Actors and their trust not only in me but in each other.
thTell us about the festival run, marketing and sales?
Eryn Rea (ER): We are at the very beginning of the film festival journey for SMILING SKELETONS. Coming hot off a premiere at Hollyshorts, it has also screened with Seattle Film Summit and we hope it continues on a robust festival run.
Give the full Official Synopsis for your film?
ER: After a toxic marriage, Jodie and Dax must finalize their divorce and all that's left to do is sell the house. With emotions still raw, Jodie goes to the house to pack up a few last things thinking that Dax is at work. Her new boyfriend, Will, accompanies her for support. Unbeknownst to them, Dax is at the house with the realtor, Annette, in the bedroom. All four suddenly face off and their skeletons come out of the closet, unexpectedly putting Will's life in danger.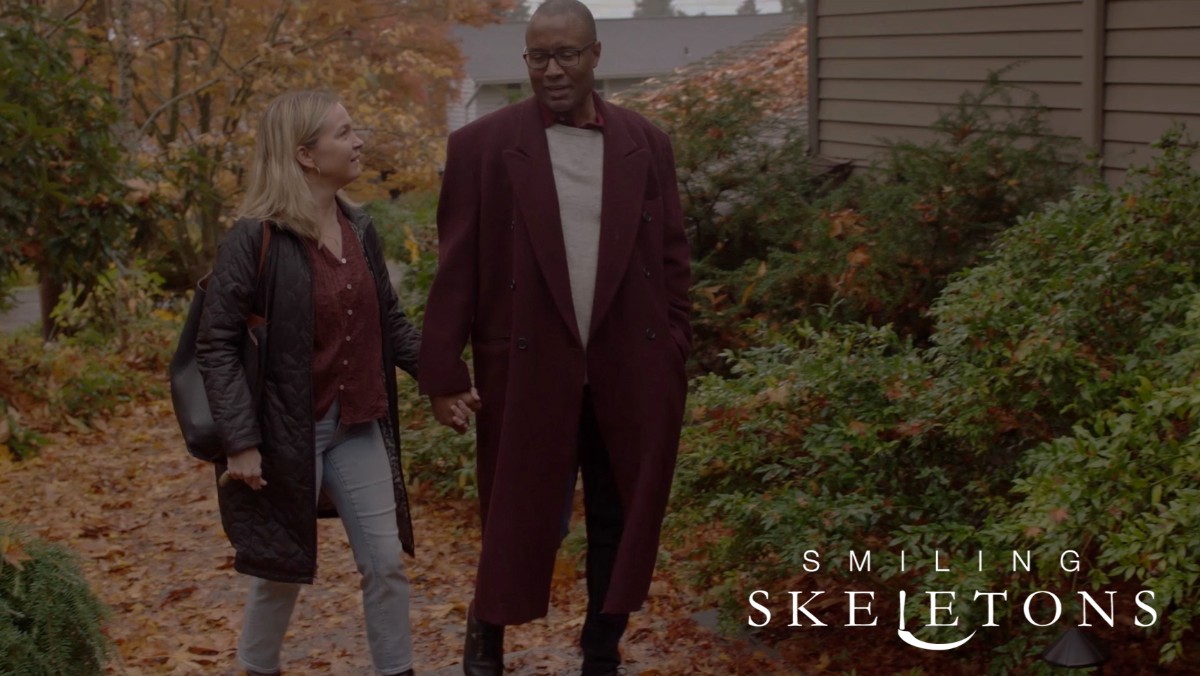 ---
Development & Financing?
ER: We didn't have a script and it was such a small project in scope and budget that we financed it amongst ourselves. The film equipment we used were items that we had access to collectively as a team.
Production?
ER: We mostly filmed at one location which was a house we rented for the weekend that one of our Actors stayed in as well. Our scheduling was also a puzzle due to the availability of the Actors. We only had one day with Angela and David, so we had to prioritize getting all of their coverage in one day and then used our second day to focus on Janelle and Lowell's scenes as well as pick-up shots needed from the previous day. Our Crew was teeny tiny, which can be tough, but in this situation, it was probably better because we could stay flexible and it was truly a team effort. With no script and no assistant director, we stayed light on our toes and ready to wear multiple hats. It's a miracle that we ended up with something that cut together and actually tells the story we set out to make.
But it worked. We had to reshoot one outdoor scene due to horrendous weather that made the first attempt unusable due to continuity but the second version was so much better, I'm glad we made that call. The only ADR we had to do was for the phone call when JODIE calls WILL and it cuts to the title card. We needed to fill out that conversation, quickly, to move the narrative forward in the edit. I really struggled with finding the right title for this short film, and we didn't have one for a long time. So pretty late into post-production, I queried the cast and crew for any ideas because we just had to pick something. We went with SMILING SKELETONS pulled from an improvised line in the short. It's from a line that Lowell says and the more I thought about it, the more perfect I realized it was. This is just another example of why collaboration with your Actors is so important.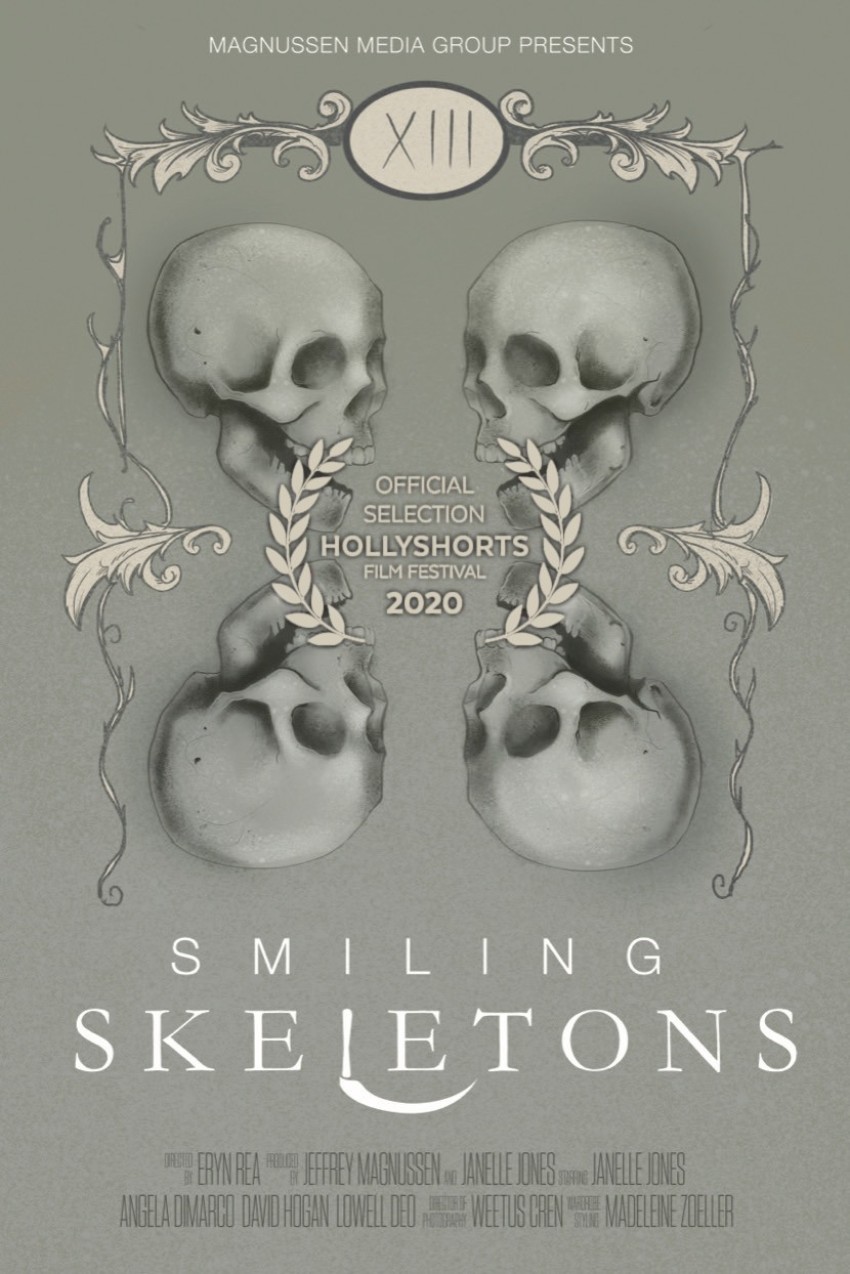 ---
Festival Preparation & Strategy?
ER: I had hoped to premiere with Hollyshorts, so I planned my festival submissions to line updates accordingly. For short films, it's a fantastic festival to screen with.
The Release?
ER: We are still in the film festival circuit and will release it streaming onliafterwardsard, which we anticipate will be in 2021.
Advice from the Filmmaker?
ER: You should not be the most competent in the room. Surround yourself with talent that elevates your work and inspires your growth, technically and creatively. Your finished film will be only as good as your cast and crew, so choose your team wisely.
---
Tell us what you think of the Case Study for Smiling Skeletons What do you think of it? Let's have your comments below and/or on Facebook or Instagram! Or join me on Twitter.
Follow Eryn Rea on Social Media
Website
IMDb
Facebook
Twitter
Instagram
Vimeo