Interviews
The Making of The Mountain Minor by Dale Farmer

A Case Study of The Muntain Minor
Narrative | Dramatic Features
Film Name: The Mountain Minor
Genre: Drama (Music)
Date: July 2018
Director: Dale Farmer
Producer: Susan Pepper and Dale Farmer
Writer: Dale Farmer
Cinematographer: Paul Halluch
Editor: Name
Composer: Name
Production Company: alt452 Productions & Wonderland Woods Productions
Budget: $150,000
Financing: Private donors. Crowdfunding Personal Investment
Shooting Format: 4k
Screening Format: 16×9 (1080p)
World Premiere: Jukebox Int'l Film Festival, Carson City Nevada. (Aug. 2018)
World Broadcast Premiere: The Heartland Network (TV). (June 2020)
Awards: 14+
Jukebox International Film Festival
– Best of Festival
– Jury Award, Second Place
– Outstanding Achievement Award Acting (Hazel Pasley)
– Outstanding Achievement Award Acting (Asa Nelson)
Endless Mountains Film Festival
– Best of Festival
– Best Director
– Best Actor (Asa Nelson)
Queen City Film Festival
– Best Film in Appalachian Category
– Franklin International Independent Film Festival
– Best Feature Film Drama
UPIKE Film and Media Arts Festival
– Spirit of the Mountains Award (Presented by Kentucky Governor Paul Paton)
– Longleaf Film Festival
– Best Feature Film Drama
Northeast Mountain Film Festival
– Best Feature Film Drama
The MOuntain Minor Website
The official trailer for The Mountain Minor written and directed by Dale Farmer
---
indieactivity: What is "The Mountain Minor" about?
Dale Farmer (DF): The Mountain Minor story is about a twelve-year-old boy and his family as they prepare to leave the mountains of Kentucky in 1932 and move to southern Ohio to find work. At the same time, it tells the story of the same boy in 1985, on his retirement day, preparing to move back to the mountains. The two stories come together in the middle and we close with the resulting modern-day family carrying on the family musical traditions. Throughout the story an old fiddle and the mysterious mountain tunes weave their way through five generations, connecting the family and its musical heritage. The story is based on my family and the many stories my grandparents told me of growing up in the mountains, migrating to Ohio, and the music that sustained them through difficult times.
Hollywood and the media in general have a long history of negatively stereotyping the Appalachian people. But, my family and the Appalachians I know are for the most part hard-working, moral intelligent people with a history of resourcefulness and talent. We have highlighted many of the positive contributions they have made to society in our film.
Tell us about the festival run, marketing, and sales?
Dale Farmer (DF): We applied to over 20 film festivals and were accepted into eight in our one-year festival run. Of the eight film festivals, we received 12 awards. We were awarded Best Drama or Best of Festival at seven of the eight festivals and were given three actor awards for the child actors, Asa Nelson and Hazel Pasley, and a Best Director award. We dodged a couple of bullets in the process of signing with TUGG and Distribber when both companies went under, so we decided to completely self-distribute. Our film is about Appalachian music and the struggles of great Appalachian migration to the midwestern factory centers.
We have picked up quite a following of Appalachian migrants and old-time and bluegrass musicians and bands through social media and email marketing. We released the film in October. A publicist, Fred Anderson, offered to help promote the film, after reading an article about it on the Internet. He initially arranged for a cross-promotional event with the Mountain Music Museum in Kingsport, Tennessee. He then helped us with publicity for our premiere at the iconic Esquire Theatre in Cincinnati. He was able to get us on various TV news shows and newspapers and we sold out our first six theater screenings in southwest Ohio. We got creative with our marketing. Before every screening, we contacted an old-time or bluegrass music group with large followings and had them do a 30-minute concert beforehand for a percentage of ticket sales.
---
We also had several afterparties with music and jamming at nearby coffee shops or clubs where we set up a merch table to sell DVDs and Blu-rays. The bands helped us with publicity and we were able to fill most of the theaters where we screened. Since we did not have distribution or typical marketing there were no theaters that were willing to just pay our license fee, which turned out to be a blessing as we would rent the theaters and then receive all the ticket sales. We made the decision early on to have nationally known musicians play the parts of the musicians in the film such as Smithsonian Folkways artist Elizabeth LaPrelle and acclaimed fiddler Dan Gellert. This turned out to be a big draw for other musicians to want to partner with us at screenings and for their followers to want to see them in the film.
In addition to social media, we have rented exhibitor tables at conferences, music festivals, and fiddle conventions to promote the film. We have screened the film at several of these events to solicit screening partners throughout Appalachia and the Midwest. After the screenings, we had a merch table with DVDs and Blu-rays and usually sold 20-40 each time. I don't believe I would have hired a publicist otherwise, but seeing how much Fred Anderson helped us early on free of charge, we have used him for several other events and it has been so beneficial and worth the financial investment. Before Fred came on, emails and phone calls to TV stations and publications usually went unanswered. But Fred is so connected and has done some amazing work for us. He has been able to get us featured in several nationwide publications, radio interviews and TV news shows to promote our screenings and movie in general.
Give the full Official Synopsis for your film?
DF: Deeply infused with the traditional Appalachian musical genres of Old-time and Bluegrass, The Mountain Minor tells an overlooked story about the people and culture behind the resurgence of American Roots Music today and highlights artful responses to the difficult circumstances of human migration.  In the 1920s-1950s, millions of Appalachians left their homes in the mountains and migrated to urban Midwestern centers in Indiana, Illinois, Michigan, and Ohio. The Mountain Minor is based on the true story of a life-worn Charlie Abner, a generation later, as he struggles with leaving his present life and family in Cincinnati, Ohio to return to the Kentucky Mountain home and musical heritage that once defined him. The story is partially told in flashbacks to Depression Era Eastern Kentucky, when Charlie's parents, Oza and Vestal Abner, face the difficult decision to leave the way of life they know and move to Ohio for employment and better opportunities. This film is unique in that all its principal actors are traditional musicians, such as Smithsonian Folkways artist Elizabeth LaPrelle and acclaimed banjoist and fiddler Dan Gellert, and they perform all of the music in the film.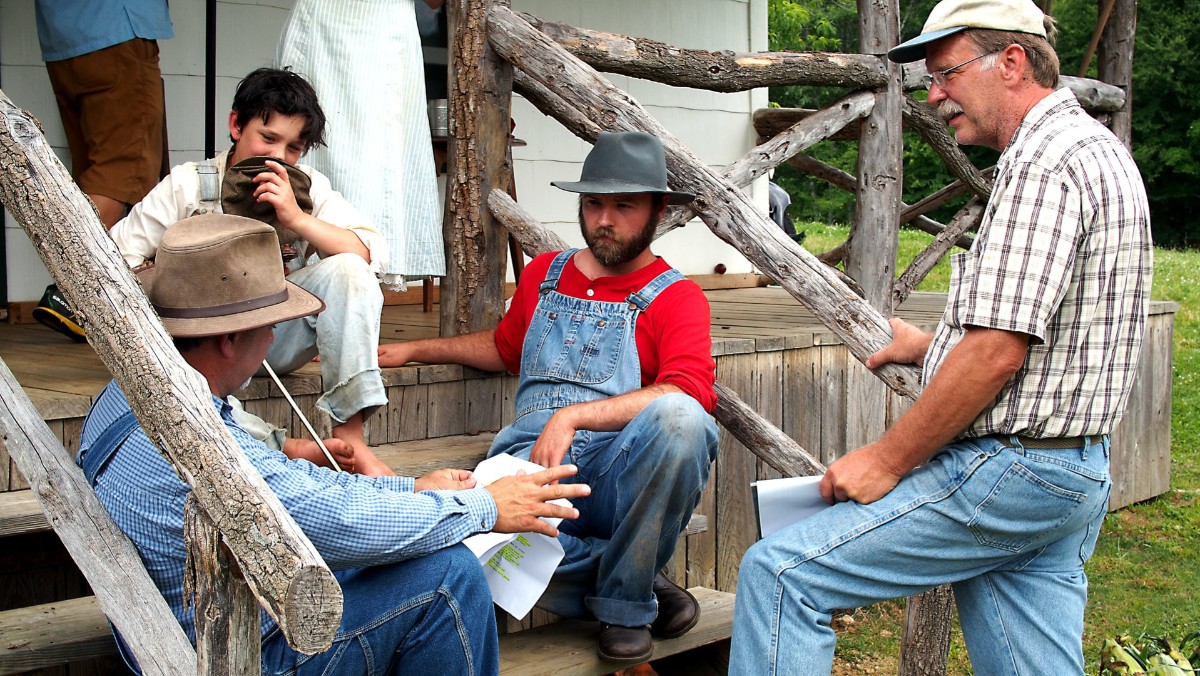 ---
Development & Financing?
DF: I had written The Mountain Minor as a short film several years ago that I had planned to produce with local musicians. But, on a whim, I contacted my dream cast of nationally known musicians and sent them the screenplay. To my delight and horror, all of them agreed to do it. Susan Pepper, a professional musician, and Appalachian Scholar, agreed to produce the film and we worked together on nearly every aspect; casting, locations, finance, and all those business aspects we creatives dread so much. We met on location on an AirB&B farm in the mountains of North Carolina in 2016 and produced a concept trailer. This gave our musicians a taste of acting and gave me and Wonderland Woods Productions a chance to work together ahead of time. We then used the concept trailer to raise funds to return to the location a year later for the production phase of the film in July of 2017. It was during that year of fundraising that I was encouraged by nearly everyone involved to lengthen the short film into a feature. So that was a busy year of re-writing the screenplay and working with Susan to raise funds. We fell short of our projected $250,000 budget.
We partnered with nonprofit fiscal sponsor From the Heart Productions and I wrote letters to every foundation I could find that supported Appalachian causes or music education. Not a single foundation responded. Since we were not making a documentary we did not qualify for any music or Appalachian-related grants. We had only raised $8,000 through our crowdfunding campaign. We were ready to call the whole thing off when a few very generous private donors who had seen the concept trailer approached us. With their donations, we had $130,000 for production. We had a big decision to either wait another year and try to raise the additional funds or go ahead and cut a bunch of corners and make the film. There would be no money left for post-production but we would worry about that later. Susan found two very talented child actors, Asa Nelson and Hazel Pasley, through the Junior Appalachian Musicians program to play the leading roles. They were both amazing musicians and actors and we thought they would be too old for the roles if we waited another year so we decided to move ahead on faith.
We dropped several key crew members: props, lighting, script supervisor, wardrobe, hair & makeup, and a few others. We did keep a very talented cinematographer, Paul Halluch, and sound recordist, Gerry Sebastian. We used natural lighting and used actors not in the scenes to hold reflectors and such. Western Carolina University sent us two interns from their film department to help on the crew. One, Corey Hamblin, was our boom mic operator and the other, Brian Ensley, served as Assistant Director. They both worked their tails off and were invaluable. We had minimal lighting for interior scenes. The actors all provided their own period wardrobe. We also reduced our 18-day shooting schedule to 13 days. We were still able to pay everyone involved a fair rate, provide lodging, travel, and meals. We rented two large Air B&Bs for the actors and crew and had an awesome caterer, Amy Nelson, prepare breakfast and a theme dinner every day. A couple of the same donors later gave us an additional $20,000 for post-production. My co-producer and I kicked in the remaining funds needed for post-production.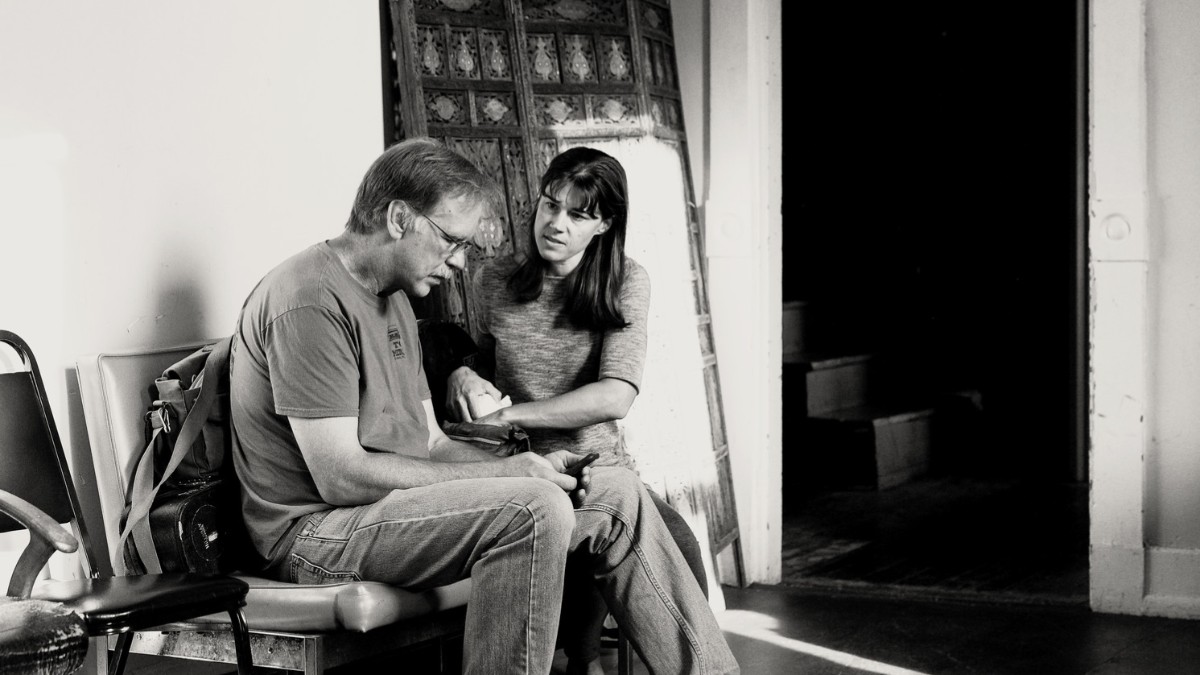 ---
Production?
DF: Todd, North Carolina is a one-stop sign mountain town. It is a destination for cyclists and river activities like kayaking and fly fishing. At the heart of the town is a mercantile and the owner, Helen, is also a realtor. We befriended Helen early on and spent a lot of time hanging out at the mercantile playing music and getting to know the locals. Helen in turn helped us with locations, finding extras and antique cars, and even did some of our catering. We were a small economic boost to the mercantile and other businesses in town and they welcomed us with open arms. We shot the 1932 scenes at Willet Ponds Farm in Todd. One of the three farmhouses on the property has been restored to its original state with no electricity and no running water. It has a wood cookstove and an outhouse and we used both in our scenes. This is a place where folks can go and live like they did in the old days. It was perfect for us with the surrounding mountains and remoteness with no highway noise or nearby flight paths. There was no internet or phone signal so we did not have those constant distractions. When the actors got into their period costumes, magic ensued. Another rental farmhouse on the property was our command center and provided lodging for eight people. We also used this house for two of our 1985 scenes.
The owners were old souls and helped us with anything we needed and we kept them busy. I would go set the scenes with props and such at 7:30 am. We then had a production meeting at 8:30 to go over-blocking and scheduling for the day. All cast and crew were on location at 9:00 and we had what we called Power Circle where we all circled up and I gave a daily pep talk. Anyone was free to speak, and several gave encouraging words every day. At the close of Power Circle, every cast and crew member had to touch every other member which usually turned out to be a hug or a hand on the shoulder as we all became family. Shooting began at 9:15 am and usually lasted until late in the night with a nice long break for dinner in between. We shot at least two major scenes per day with quicker scenes with minimal cast worked in here and there. We shot in July, the driest month of the year, and only had two scenes rained out so we shifted to the interior scenes during those times. We shot the film with Sony cameras. We had an A7iii on a Ronin and an FS5 on a shoulder mount. We also had a drone that we used sparingly. My cinematographer and I worked very well together. I would give him my ideas for blocking and he would take my ideas and run with them. He was really good with one-shot scenes and we shot several scenes in that style. Watching them gives the viewer the perspective of walking around in the scene and somehow being there.
We rented a stereo boom mic and a set of lavs. One of the things we did that is nearly unheard in film of was to record all the music as it was being played in the scenes, rather than play to a studio recording. Our most important goal was achieving authenticity in the music. Rather than watching actors fake playing to a recording or learning the music and actually playing without the nuance of a lifetime of immersion in the music. We left in the rough edges and small mistakes here and there just as you would have heard it on the front porches in 1932. After the daily shooting, I started working on the next day's schedule and script revisions. I usually had everything printed out by 2:00 a.m., took my shower, and got to bed so that I could get up the next day at 6:30 and start all over. A month later we shot the 1985 and 2019 Ohio scenes. We had a concert scene with The Tillers, an old-time string band that is based in Cincinnati. We had a call for extras for the audience and offered free pizza and an actual concert after the hour of shooting the scene. We had a great venue in Newport, Kentucky, The Southgate House Revival, donate the location for us. There is an old hardware store and diner in my hometown that has not changed a bit since the 1980s. I am a regular customer at both and they both agreed to let us shoot our 1985 scenes in their off-hours.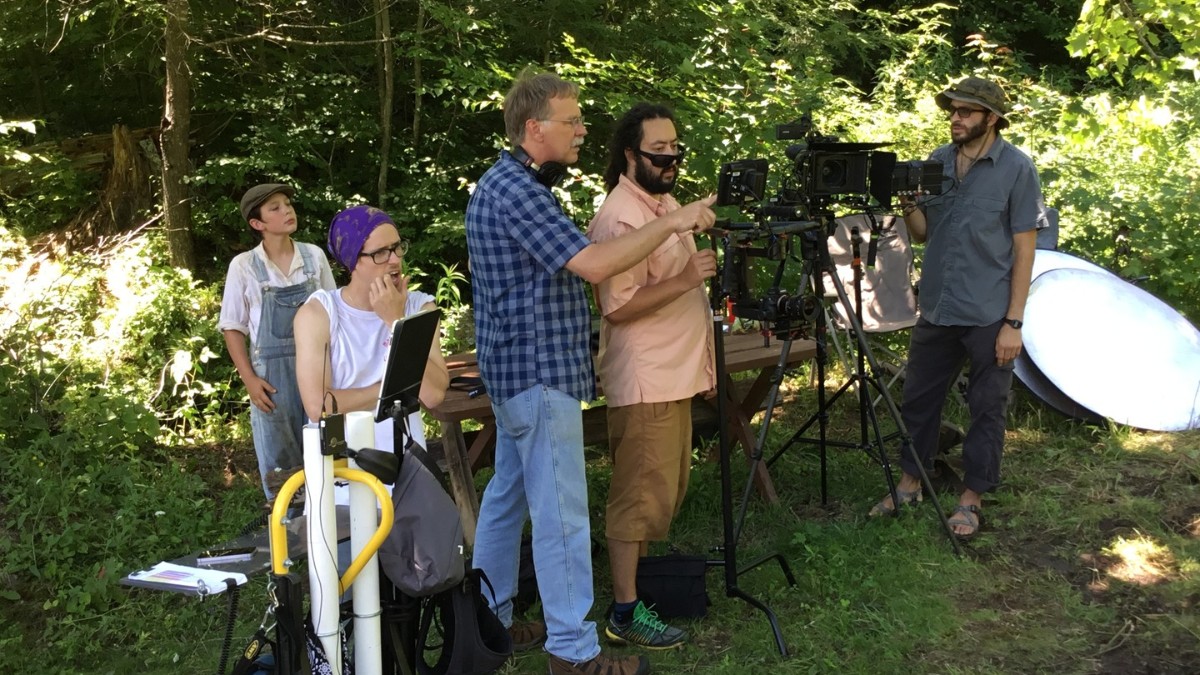 ---
The next year was spent editing. Our editor, Eitan Abramowitz, was in North Carolina and sent me edits regularly to which I would comment and work with him to finalize our festival cut. I returned to North Carolina with my own ProTools rig and recorded the score with Trevor McKenzie in an old log cabin. We did not need any ADR but we did have to re-record two of the songs in the film ADR style. After a year of festivals we had a finish editor, Scott Young, go over the entire film and clean up several scenes and fix some color issues before our public release. Scott also authored our DVDs and Blu-rays and worked with Amazon and Vimeo to get our film on those two platforms. Our drone shots were crucial and looked beautiful until compressed to Blu-ray where they were horrible. There were no compression settings that would fix the problem. We ended up hiring Drew Money at 779 Video in Cincinnati to perform some magic and it all turned out well.
The challenges from start to finish were countless. I could, and probably will write a book about it. My favorite was when I had to return to North Carolina to shoot the second half of one scene with our two child actors. We had secured a location for one evening and were not able to finish the scene before nightfall. It was then unavailable for us for two weeks. During that period, the boy had gotten a very short haircut so that throughout the scene his hair would have shifted long to short. We were about to reschedule for when his hair grew back but his mom took off and returned an hour later with a bag full of hair from the stylist and a tube of glue. She glued his hair back on and trimmed it to match the previous shots.
Festival Preparation & Strategy?
DF: We were so new to all of this. We really did not have a festival strategy. We just applied to any festival that we thought might accept our film, concentrating on music related and Appalachian festivals. We applied to a couple major festivals but received the notice that they liked our film but it was not a good fit for their programming. I would always go back and look at the films that had been accepted after receiving rejection notices and could agree that a family-friendly, non-controversial narrative feature probably wasn't a good fit. I have heard it said that awards at minor festivals are useless. That might be true for a film seeking major distribution, but for a self-distributed film on our scale, the awards have really helped with our publicity.
It was a way for folks outside of the film business to see that our film stood out from the others. We have been featured in numerous newspapers and music-related magazines and all of them mention our awards which I believe raises interest when folks are deciding on a movie to watch. Networking at film festivals was also invaluable. Other filmmakers hosted screenings for us and through our networking, we found our finish editor and folks interested in helping with our next project. We have also cross-promoted our projects on social media.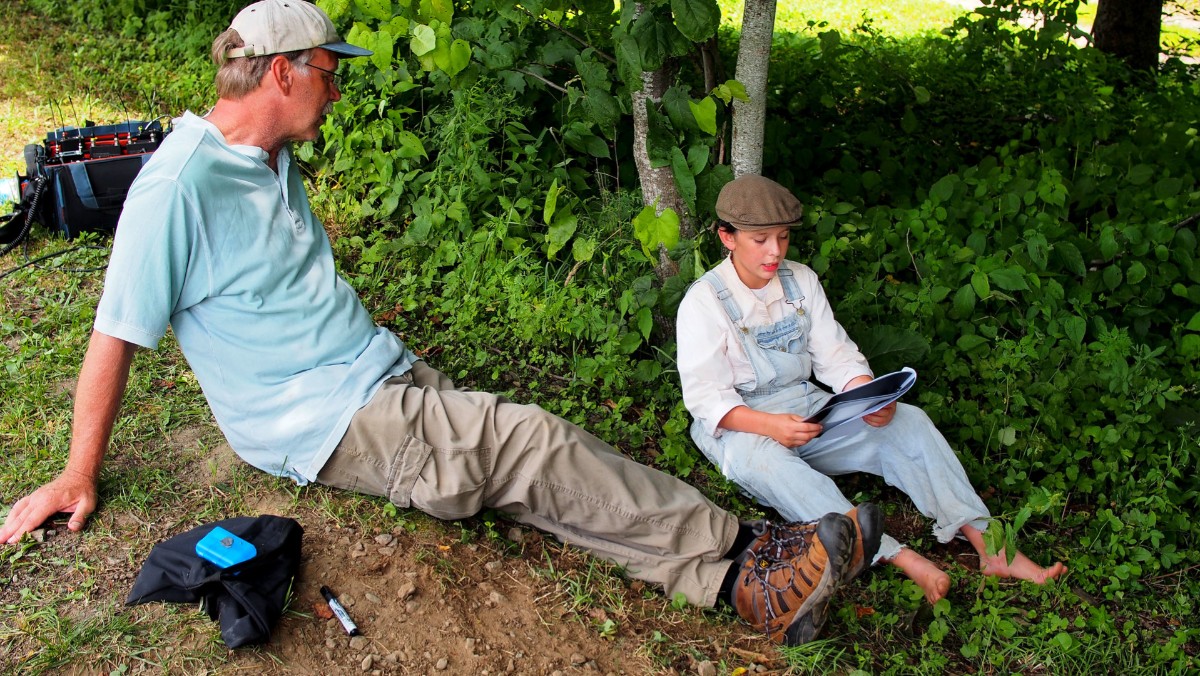 ---
The Release?
DF: We had our public theater premiere for The Mountain Minor in October of 2019 and began selling DVDs online at the same time. We hired a media marketing senior at nearby Miami University, Alyssa Meoak, to help us with booking theater and community screenings. We were able to get 23 screenings in various theaters, colleges and community venues before the world shut down because of the coronavirus. We had to cancel the next 18 scheduled screenings plus numerous other screenings we had in the works. Not knowing how long it might take for theaters to reopen, we went ahead and made the film available on Amazon Prime and on Vimeo on Demand. We are also selling DVDs and Blu-rays through Amazon.
Since we have a large following of older folks that still like to have films on DVDs, our disc sales are actually going quite well. We also negotiated to have the film's broadcast premiere on The Heartland Network, which is a national television network that features country music-related programming. The film has also been acquired on a nonexclusive basis by Kentucky Educational Television (KET), a statewide network of PBS affiliates. It has also been acquired by West Virginia Public Broadcasting and CET and ThinkTV in Ohio. It is currently under consideration by other television outlets.
Advice from the Filmmaker?
DF: Be prepared to the nth degree before production. In my case being so new to film I didn't know what I didn't know but so many with the experience offered help when I needed it. I did study constantly for a few years; took classes, read everything I could get my hands on about screenwriting, directing, acting and filmmaking and took on the role of my biggest critic. It takes confidence, hard work and mostly flexibility at all times to pull something like this off. Unfortunately, I had to wear too many hats and had a constant barrage of questions coming at me that distracted from my focus on directing and creativity. So, try early on to delegate as much as possible, especially to answer all those questions about food, charging batteries, first aid and anything else that does not directly deal with the production.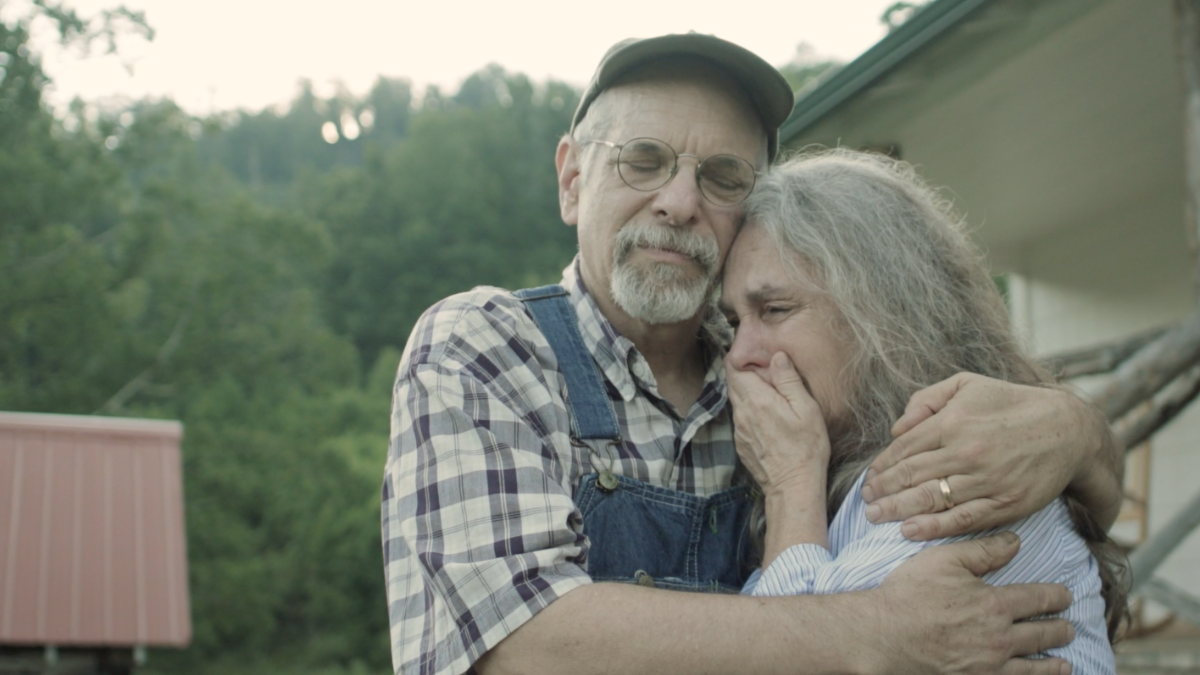 And no matter how flustered and exhausted you are, at all times be genuinely nice to everyone. Facilitate an open and non-threatening work environment on set. Treat every cast and crew member with respect and get to know them. Create something special and magical that makes everyone involved willing to work long hard hours and give 100% to the project. And feed them great food! Toward the end of shooting our 1932 scenes, we broke for dinner. Everyone was hot and worn out and a little grumpy. I stayed behind to set up the set for the next scene. Our caterer had announced that dinner would have a Caribbean theme. When I returned to the group, all of those grumpy cast and crew members were all dancing to the Caribbean music, drinking, laughing, and having such fun on their full bellies. Yes, feed them well!
---
Tell us what you think of the Case Study for The Mountain Minor. What do you think of it? Genre? More genre? Let's have your comments below and/or on Facebook or Instagram! Or join me on Twitter.
Follow The Mountain Minor on Social Media
Website
IMDb
Facebook
LinkedIn
Wikipedia
Vimeo