A Case Study
Narrative | Dramatic Features
Film Name:TOTO
Genre: Family Drama/Sci-Fi
Date: March 2020
Director: Marco Baldonado
Producer: Jeremiah Lapointe
Writer: Marco Baldonado / Co-writer: Walter Woodman
Cinematographer: Mark Zibert
Production Company: Scouts Honour
Budget: $100,000 USD
Financing: Self Funded and Donations
Shooting Format: Digital. Alexa Mini
Screening Format: DCP. MP4. 16:9
World Premiere: Tribeca Film Festival 2020
Awards: Nominated for Best Short Film Tribeca 2020. Winner Best Short Film Blood in the Snow Film Festival 2020
Website: https://www.totothemovie.com/
indieactivity: What is your film about?
Marco Baldonado (MB): In a not so distant future, Rosa Forlano, a 90 year old Nonna, teaches a robot how to make spaghetti. Unfortunately a software update erases her family recipe. The way Rosa relates to the robot and to her family who all have different levels of fluency in Italian, demonstrates the films theme of change across generations. Rosa is the real life Nonna of filmmaker Marco Baldonado and TOTO is an ode to her family traditions. The title of the film and name of the robot is based upon legendary Italian actor Totò.
---
Tell us about the festival run, marketing and sales?
Marco Baldonado (MB): 2020 has been a turbulent year. Making a film and participating in a festival is a privilege. The festivals that have presented TOTO this year have been so generous in continuing with the show online! The silver lining of showcasing a film during a pandemic has been the online engagement with audiences that usually cannot attend festivals.
I have been handling all the PR myself and connecting with fans directly through web call or social media. This experience has taught me that the film is only the beginning of the conversation. Storytellers can have more engagement than ever before by being present on different platforms. I think to get the most out of the festival is to create an ecosystem of content such as teasers, posters, and behind the scenes insight that audiences can tap into.
Here are the accolades:
Official Selection 2020 We Are One Global Film Festival.
Best Narrative Short Nominee 2020 Tribeca Film Festival.
Winner Best Short Film 2020 Blood in the Snow Film Festival.
Official Selection 2020 Fantasia Film Festival.
Official Selection 2020 Calgary IFF.
Official Selection 2020 IFF Pacific Meridian.
Official Selection 2020 LA Shorts.
Official Selection 2020 HollyShorts Film Festival.
Official Selection 2020 Aesthetica Short Film Festival.
Official Selection 2020 Nantucket Film Festival.
Official Selection 2020 Milwaukee Film Festival.
Official Selection 2020 Izmir International Short Film Festival.
Official Selection 2020 Devour! Festival.
Official Selection 2020 Short Cuts Film Fest.
Give the full Official Synopsis for your film?
Marco Baldonado (MB): Rosa Forlano, a 90 year old Nonna, teaches a robot how to make spaghetti. Unfortunately a software update erases her family recipe. Rosa, her daughter, and her granddaughter all relate differently to the robot, and all have different levels of fluency in Italian. The software update and the language use both bring out the theme of change across generations.TOTO is a sci-fi story about inter-generational communication and the pace of change, both bitter and sweet. Rosa is the real life Nonna of filmmaker Marco Baldonado and TOTO is an ode to her family traditions.
The Official Trailer for TOTO written and directed by Marco Baldonado
---
Development & Financing?
MB: I wrote the original screenplay and brought in Walter Woodman as a Co-writer to elevate it. Walter and I are colleagues from Ryerson University. Walter is part of the renowned collective Shy Kids that make award winning films, animations and music.
TOTO is influenced by my real life experiences of growing up with my Nonna Rosa, and my family. The robot character TOTO is influenced by real companion robots like Japan's Robear, movies like Big Hero 6 and video games like Nier: Automata. Another inspiration are the observations of real people using their technology and fumbling with it. In my view, learning a new piece of technology is like learning a new language.
My writing process is constantly exploring, adding and then ultimately reducing the story to illustrate its theme in the simplest form. The process begins with researching, writing notes and creating a skeleton of beats. It's like collecting sticks to start a fire. Finding the best material and structuring it in the best way so that something can ignite. Nonna, the robot, and what it means to update became the fuel for the story.
The main theme of TOTO is change across generations. The symbol of the Update can be understood as a technical update for a robot and a generational update for Rosa. Her family recipe for Pasta is a symbol of who she is and when TOTO forgets the recipe it is as if he is forgetting Rosa. 
My writing process begins with writing a good story and then transforming it into a film script. In my view a film script is like a blueprint. Its purpose is to facilitate a film shoot. The star of TOTO is my real life Nonna, Rosa, she is 93 years old and because she is not an actor the script was crafted around her in order to bring out her best performance.
The final evolution of the script occurs in the editing room where elements are reduced, pushed and pulled in order to heighten the movie experience. Action and emotion are the elements that trigger audiences. Dialogue is the music in between that links the events.
I self-financed the film and accepted donations. Companies like William F. Whites, Dialogue Creative, CM&P, Scouts Honour, Jigsaw Casting, Rooster Post Production, The Vanity, and Pirate Group Inc. had donated their gear, facilities, and talents towards TOTO. Crew members that donated their time were gifted Rosa's homemade pasta and sauce. In a way the film was made on a spaghetti budget.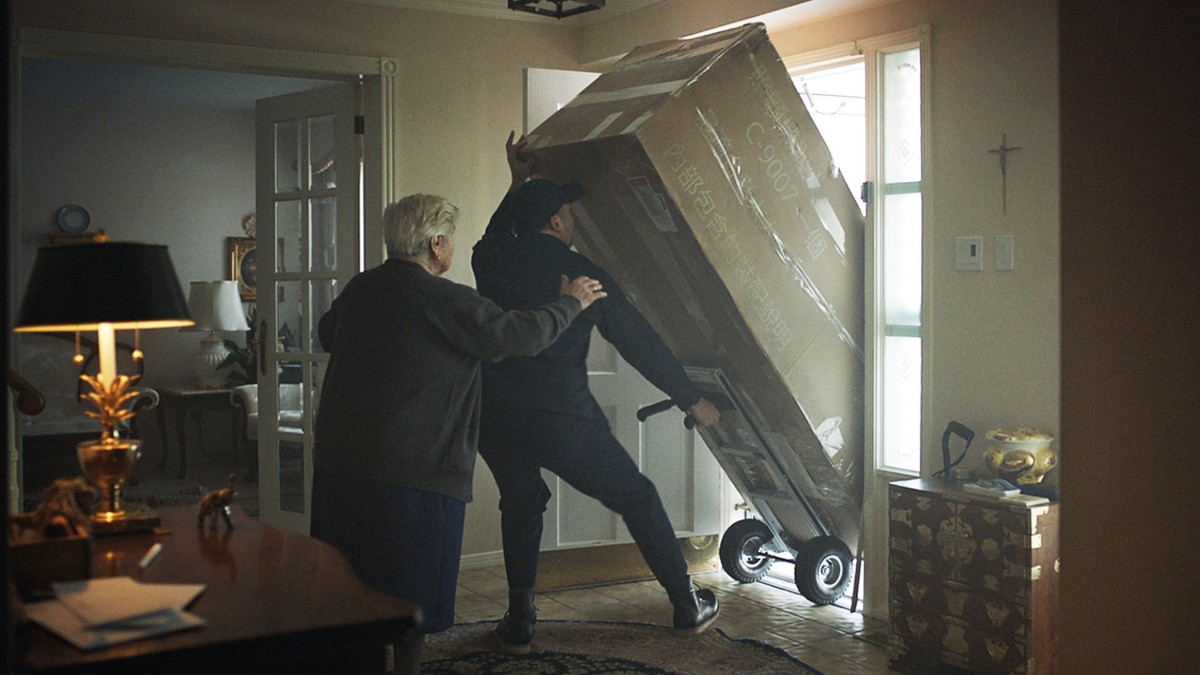 ---
Production?
MB: TOTO was made in 2 years. Year 1 was devoted to pre-production. Scriptwriting, building the robot costume, casting, and rehearsing. Ritta Koleva was the Robot designer & Constructor. I came to her with a visual treatment of images and video references for the design of the robot, and she brought it to life. The pair would meet throughout the year to do sizings and collaborate on the design. Ritta is a professional and was generous to donate her time and work within my budget.
Once the script and robot were complete I began rehearsing with Nonna Rosa. She would be making her acting debut at 93 years old. The story was crafted around her. These choices were made to bring out her best performance while keeping her comfortable. Rosa only speaks Italian while the rest of the crew only speaks English. Simplifying the story and reducing the dialogue for her was key. Body language, physical actions and emotion became her tools of communication. Nonna Rosa is being 100% herself in her performance and that is why it is so special.
Year 2 was spent in production and post-production. Film shoot, offline editing, online editing, and sound design. Mark Zibert, Rita Popielak, and Simon Dragland of Scouts Honour came on board as Executive Producers to support and facilitate the film. Scouts Honour connected the dots with crew, gear and post production houses that worked on TOTO. Jeremiah Lapointe joined the project as Producer and coordinated the show. He brought a decade worth of experience to the table and became the leader of our wolfpack.
Additional casting was provided by Shasta Lutz (CDC) and Diana Ricci of Jigsaw Casting. They were so generous in lending their facilities for casting. This is where we found Gabriela Francis to play the Granddaughter. Meeting Gabriela for the first time it was apparent that she would be a part of TOTO. She is so intelligent, good at communicating and 100% herself.
The entire film was shot at Nonna Rosa's real home. For Production Designer Jay Pooly this choice streamlined the work. Rosa's house was naturally authentic. It was full of Italian touches. With his expert eye, Jay recreated Rosa's home into its best version. Reducing it into a shooting environment while maintaining an organic and lived in feel.
I love storytelling in wide shots. It's a simple camera position but requires the right effort in lighting and in the mise en scene. The payoff makes the film cinematic and puts the viewer in the environment. I also enjoy punctuating moments with camera push-ins or door openings. These changes on screen are exciting because they reveal new information to viewers. Mark Zibert was the Director of Photography. He elevated TOTO to a higher level. He is an award winning director, and a great mentor.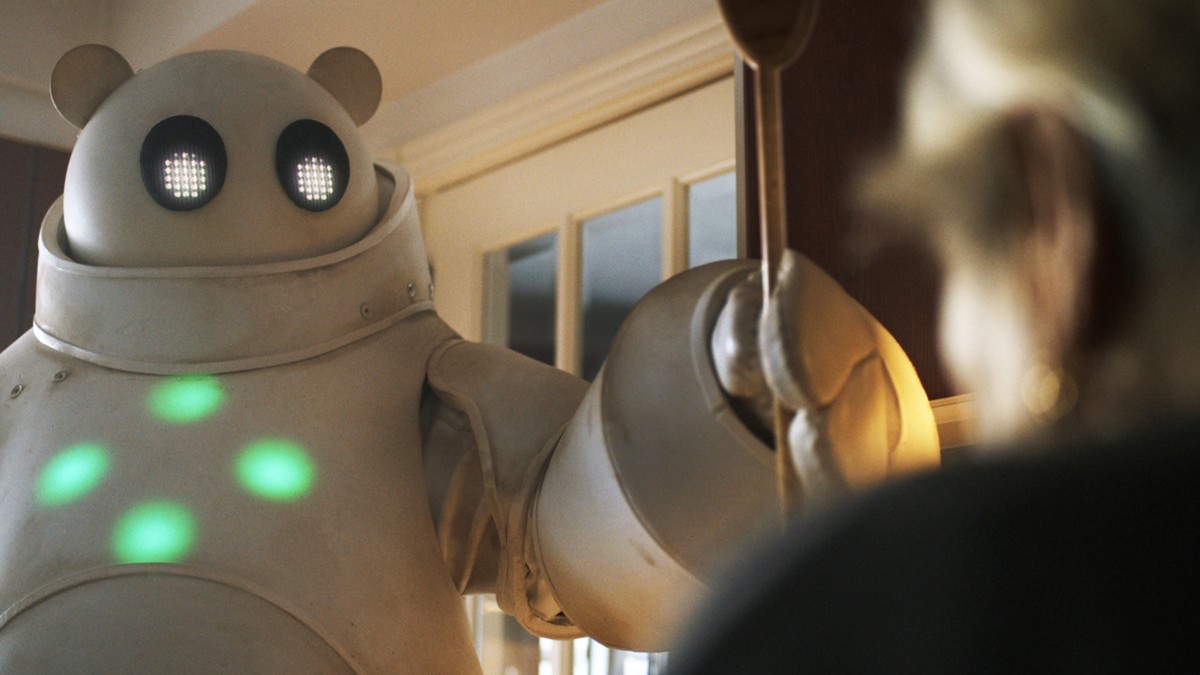 ---
TOTO was such a fun and rewarding experience because of the cast and crew involved. Walter Woodman, the Co-Writer, also starred as TOTO the robot. His endurance in the costume and his enthusiasm towards the project was the secret sauce to our production. Mary Rose Sciarrillo played the mother in TOTO. She is the real life family friend of Rosa. She brought an authentic familiarity to the table by speaking Italian. Both women are new to acting, i believe it offered a sense of partnership and ease prompting a natural performance.
Once shooting wrapped TOTO quickly moved into the editing stage. I was so fortunate to work with so many award winning professionals in production and now in post. The offline edit was done at Rooster Post Production. Michelle Czukar was the Editor and Mikaela Bodin was the Assistant Editor. Together they distilled 2 days of footage into a brilliant 13 minute movie. Michelle was so generous with her time, allowing for the exploration of options in every scene. She knew what shots worked best and yet was still open to collaborate. It's in the edit room that the script has its final transformation.
The online edit was completed at The Vanity. Sean Cochrane was the Visual Effects Supervisor, Kayla Baxter was the Visual Effects Producer, and Andrew Exworth was the Colorist. The team at The Vanity was so efficient in creating the VFX and colour for the film. They built the eyes of the robot which were inspired by 8-bit video games like Mega Man, and movies like Wall-E. The way the eyes move and blink are reminiscent of arcade machines and old school LED boards.
The score and sound designed was created at Pirate Group Inc. The sound supervisor, Mark Rajakovic, created the original score, with Aaron Key as the Audio Post Supervisor. Mark and I were inspired by films like The Shape of Water and Amelie. He made such an emotional and personal score for TOTO. The musical cues are nostalgic and futuristic. It is something truly special. I voiced TOTO and Mark Rajakovic directed my performance. The treatment took some exploration but the best option was to reduce the effects and make the robot sound artificially human. This decision is in credit to Mark and his team.
I am so grateful to the cast and crew that worked on TOTO. The film feels timeless and universal. The awards and reception that it is receiving, really affirms all the love and work that went into the project. Making a film with my grandmother is a beautiful memory that I will cherish for the rest of my life. I hope audiences enjoy the film and resonate with Rosa and TOTO.
Festival Preparation & Strategy?
MB: This is my first film festival experience. My aim was to present TOTO at as many Academy qualifying film festivals as possible and network with as many people as possible. Unfortunately these plans as for many others have been derailed by the pandemic. However when one door closes another opens.
The online experience has been rewarding. Being nominated for Best Short Film at Tribeca, winning Best Short Film at Blood in the Snow Film Festival, and being selected to premiere at the We Are One global Film Festival are great honours. 
I have been doing all of my own PR by uploading posters, teasers and BTS insight online onto Instagram and Facebook. The engagement has been pretty great. Family and friends have been sharing the film and so many people across the globe have been making contact. Here are the links.
The Release?
MB: The short film is yet to be released. I am currently developing it into a feature.
Advice from the Filmmaker?
MB: Be on time. Be nice. Be yourself because nobody can be you. Be patient because making a movie is a privilege. Be in love with what you're making because if it's any good it will be a part of your life forever.
---
Tell us what you think of the Case Study for TOTO What do you think of it? Let's have your comments below and/or on Facebook or Instagram! Or join me on Twitter.
Follow Marco Baldonado on Social Media
Website
IMDb
LinkedIn
Instagram
Vimeo